At 2014 Robot World, NEXCOM exhibited with HIWIN to present its latest collaborative solutions for the smart factory of Industry 4.0. NEXCOM demonstrated its total solutions of cyber-physical systems dedicated to realizing the vision of smart manufacturing, which aims to achieve smart, green, and urban production. To lay the groundwork for Industry 4.0, NEXCOM's EtherCAT machine automation solution, NexMotion™, provides the combination of advanced embedded computing and automation technology to harness the capabilities of smart machines, helping electronic manufacturers realize smart manufacturing.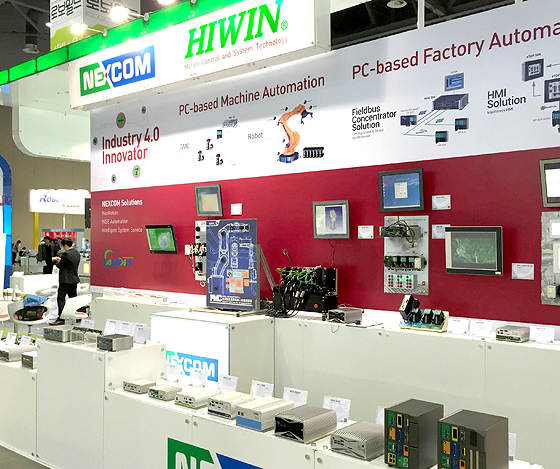 Among a variety of products, NEXCOM EtherCAT controller NET 3600-CBW got the most interest. Based on EtherCAT technology and open architecture design, the NET 3600-CBW features comprehensive configuration software and easy-to-use utilities to streamline development, and can easily integrate with existing control algorithms. At the show, the NET 3600-CBW displayed its high compatibility with 4 different brands of servos, to offer developers unprecedented flexibility to build a machine tool that moves as it is intended.
NEXCOM NISE 300 fieldbus concentrator solution also received lots of inquiries. The NISE 300 features Intel® Core™ i5-4402E processor and provides high expandability to support multiple fieldbus technologies and internet connectivity. Designed to fit in a 2U rackmount chassis, the NISE 300 is a high computing data server and communication gateway which provides cross–fieldbus communication, such as PROFINET, PROFIBUS, EtherNet/IP, DeviceNet, and EtherCAT, makes data-based decisions, and pushes factories down the path towards lean manufacturing.
To learn more about NEXCOM EtherCAT machine automation and PC-based factory automation solutions, please contact NEXCOM sales representatives.