Visit NEXCOM's booth for innovative features in security surveillance systems at the International Security Expo, in Taiwan from April 18 to April 20. In this exhibition, NEXCOM will showcase three major product areas - mobile NVR, retail security surveillance and enterprise security surveillance to keep your homelands secure.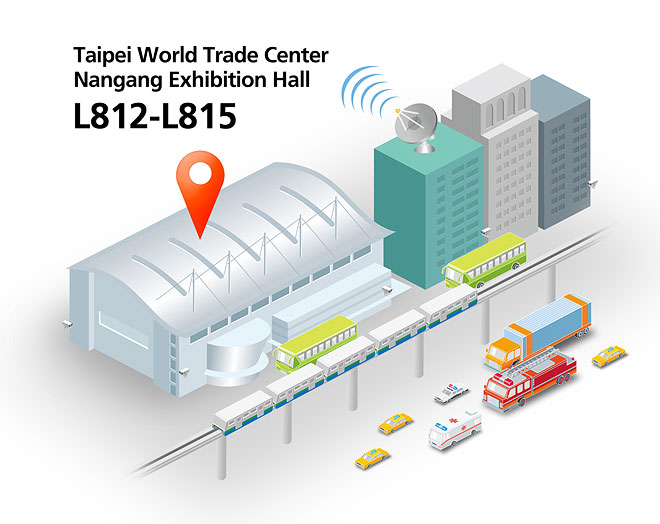 The mobile NVR solutions from NEXCOM provide excellent performance to meet the demands from pure IP-based mobile NVRs to hybrid ones. The latest NViS 2280 turns megapixel surveillance in mobile NVR into reality with fast gigabit transfer speeds. NEXCOM 16-CH NViS 2280 is packed with high bandwidth Gigabit PoE and GbE LAN interfaces, dual local display, a multitude of wireless technologies, hot swappable HDDs and G sensors. Along with low power consumption and support for a wide range of power inputs, the rugged NViS 2280 based on Intel® Atom™ processor D2700 has been specifically designed for security surveillance applications in hostile mobile environments.
For retail security surveillance, NEXCOM rolls out the 4-bay tower security surveillance NViS 5240, which can be integrated into your current POS system. Based on Intel® Atom™ dual core processor D2700, the 16-channel NViS 5240 supports dual local displays, more than 8TB storage capacity, and wireless connectivity. It is specially tailored for small and medium size surveillance projects within the retail industry. NViS 5240 featuring an Intel® Atom™ dual core processor D2700 at 2.13GHz, supports surveillance recording and video playback. Using GbE LAN, the entry-level security surveillance platform can coordinate videos captured from up to sixteen high megapixel IP cameras and store more than 8TB video footage on four separate HDDs. Storage capacity can also be expanded via an eSATA interface.
In enterprise security surveillance thematic area, NViS 6210/6220 presents a combination of great features at an exceptional price point. Featuring the 2nd generation Intel® Core™ i3/i5/i7 desktop processors, the NViS 6200 series is capable of simultaneous recording and display for up to 32 channels. With video decoder chips onboard, NViS 6200 series ensures highly reliable performance in a sturdy 2U chassis. Incorporating Intel® vPro™ technology, NViS 6200 series is the ideal platform for large scale security surveillance deployments including metropolitan security, public safety, enterprise security, and buildings security.
To learn more solutions, please visit NEXCOM's booth at Secutech.
Event Details
Date: April 18-20, 2012
Venue: Taipei, Taiwan
Exhibition Hall: Taipei World Trade Center Nangang Exhibition Hall
Booth: L812-L815