At Intertraffic Amsterdam 2012, NEXCOM made its first appearance at this leading traffic technology event. NEXCOM's smart and rugged mobile technology in-vehicle computer and train computer received a great deal of interest from visitors who had travelled from all corners of the globe including Europe, Russia, Middle East, South America and more.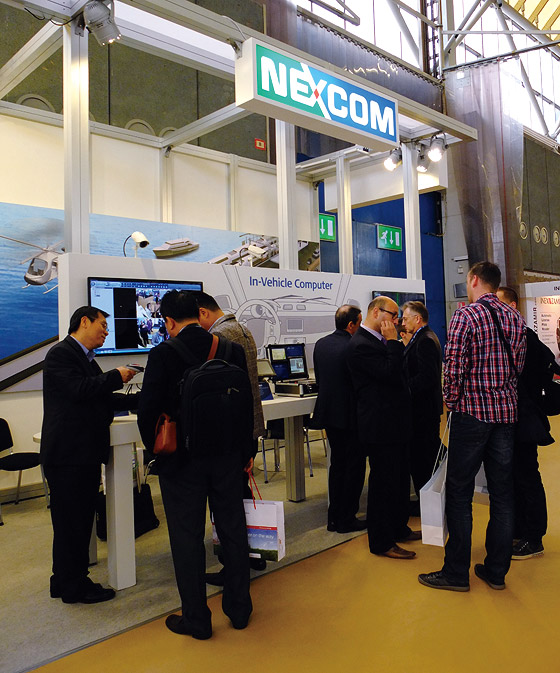 The fanless in-vehicle computer VTC 1000 and 7-inch vehicle mount computer VMC1000 were definitely the stars of the show, especially for visitors looking for advanced management solutions for public transportation. VTC 1000 is equipped with SMS/RTC wakeup, GPS receiver, CAN connectivity, WWAN/WLAN connectivity, and wide range of power inputs. The system can be controlled remotely and is specifically suitable for extreme automotive environments. The all-in-one vehicle computer VMC 1000 featuring an incredibly compact, vibration resistant, IP54 rated exterior and smart power management mechanism, is perfect for the use in telematics, vehicle tracking, fleet management, and transportation type applications.
The other highlight of the show from NEXCOM was the VTC7110-PoE in-vehicle PC, which is an advanced vehicle computer with multiple channel PoE supported for mobile surveillance. With bulit-in Intel® Core™ i7 2610UE 1.5GHz processor, VTC 7110-PoE can support up to 8 channel PoE with a dual SIM card holder ensuring seamless connectivity. Furthermore, VTC 7110-PoE can be woken up either by the RTC or SMS thus ensuring easy operation and maintenance. A number of communication options are available including WLAN/Bluetooth/WWAN thus making it the perfect solution for mobile environments.
For the railway related applications, nROK 3000 fanless transportation computer is an ideal solution, and the perfect eye-catching solution for the NEXCOM's stand. With Built-in Intel® Atom™ D525 Dual Core 1.8GHz Processor, nROK 3000 certified with EN50155 is designed with isolated DC input protection to ensure stable operation in harsh environments.
To learn more about the in-vehicle computer, train computer, and marine computer, please visit www.nexcom.com