NEXCOM,s NROK 500 Series is specially designed for trains. The 1st Rail PC NROK 500 is a tiny transportation computer system, which has 24V isolated DC input protection and is fully compliant with most standards for transportation usage.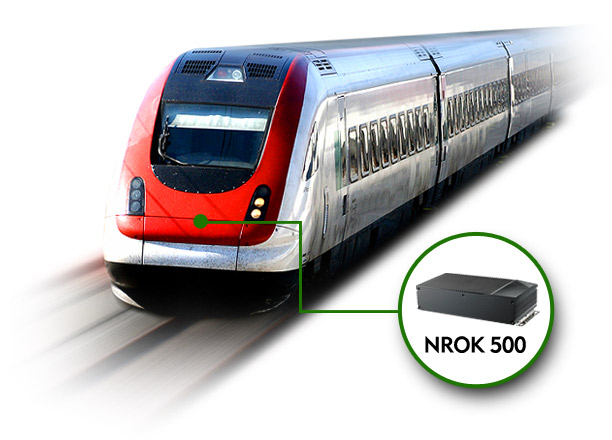 For transportation automation, NROK 500 incorporates M12 Ethernet connector, which is specifically designed to be used in industrial applications in a variety of environments, therefore incorporate features to ensure stable operation such as exceptional resistance to shock and vibration. This rock computer, as rail PC, will be compliant to EN50155 regulations.
NROK 500 transportation computer supports power saving concept, both power-on and shutdown delay will be active via ignition function during break time. For any urgent message, NROK500 will be active after trigger wake-on-LAN function. This function ensures the minimum power consumption and will not missing any message from control room.

To avoid exposure to the power fluctuations and spikes when a vehicle is switched on and off, NROK 500 transportation computer supports a power delay function which enables the system to be activated a few seconds or minutes after the transient voltage condition.
In addition, NROK 500 transportation computer offers total flexibility for data acquisition. Equipped with a SIM card holder, CF socket and mini-PCIe socket for optional 3G wireless module, data can be transmitted over network and stored in a convenient SSD (Solid-State Drive) or CF card to enhance resistance to vibration and shock.
Main Features
On-board Intel® Atom™ Dual Core D525 processor
One DDR2 SO-DIMM socket, DDR2 800 2G memory module support max.
1 x M12 LAN port
2 x USB2.0 / 1 x VGA / 2 x RS232
1 x external CF Socket and one external SIM card holder
24V Isolated DC input
Support Ignition Signal for delay- time control
Support WoL & PXE function
Ordering Information
Barebone
NROK500 (P/N: 10A00050000X0)
Intel® Atom™ D525 Fanless Barebone Railway Computer with DDR2 SO-DIMM socket and optional wireless module support