In response to the rising demand for homeland security solutions, NEXCOM has launched NViS 3540P4 to strengthen its competitive edge solution for mobile surveillance market. But, what exactly people are looking for regarding homeland security solutions? The answer is NViS 3540P4, a compact yet fanless mobile NVR platform with high computing Core 2 Duo processor to handle full HD IP cameras. Not only that, it is also a PoE-ready IP camera (up to 8 channels) solution whilst supports wide range DC power inputs with ignition function. This all-in-one mobile NVR solution is capable of supporting comprehensive hybrid NVR applications.
Core™ 2 Duo In-Vehicle NVR Computer
In-Vehicle surveillance solution developers always struggle to optimize system performance whilst solving over-heating issue. By incorporating Intel® Core™ 2 Duo CPU, NEXCOM's NViS 3540P4 mobile NVR not only overcomes this challenge, but it is also capable of implementing the turbo boost technology to handle comprehensive computing algorithm for full HD IP cameras.
Versatile I/O Interface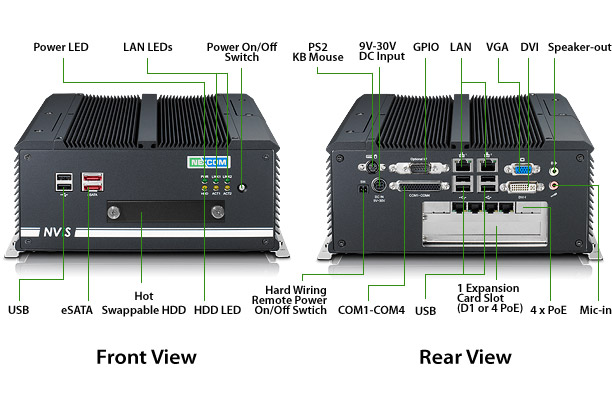 Abundance of Intelligent Designs
Wide Power Input Ranges and PoE Ready
Supporting 4 PoE IP cameras (optional 8 PoE configuration) and wide power input ranges, from 9V to 36V, the NViS 3540P4 is specifically designed for transportation applications. It seamlessly fits for various vehicle batteries and overcomes different power voltage issue. Incorporating with power ignition module, the NViS 3540P4 is able to function well under fluctuated power condition to offer power on/off delay function.
Smart Fan
The smart fan of the NViS 3540P4 is controlled by the CPU temperature. The fan is activated only when the temperature exceeds the setting range; which means the system is under fanless condition most of the time. This feature realizes the intelligent system adjustment and thus increases the component life span.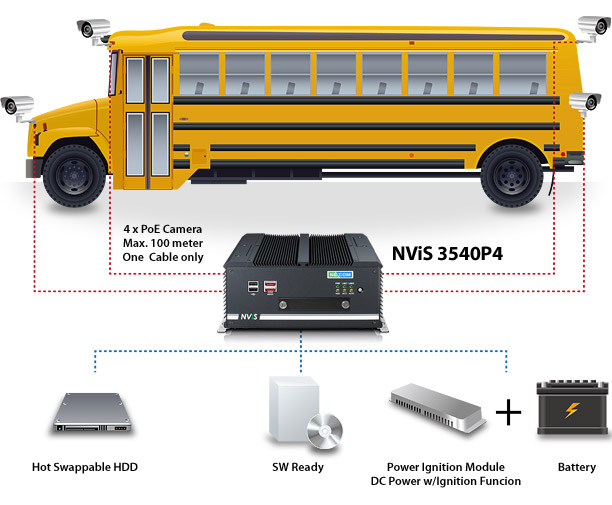 Wireless Connectivity and Hot Swappable HDD
The NViS 3540P4 supports hot swappable HDD with RAID level 0 and 1 information protection. Drivers can easily grab the hard disk with data recorded at the end of the shift. In addition, real-time data can also be transmitted immediately via wireless connectivity.
Rugged Enclosure and Optional NVR Software
Using optional NVR software, the NViS 3540P4 is able to perform intelligent video analytic, access control integration, video management and instant response. All these intelligent features mentioned above are housed in a robust and rugged enclosure that protects the system from outdoor environments, such as vibration and shock.
With Core 2 Duo system performance, an abundance of intelligent designs and rich I/O connections, NEXCOM NViS 3540P4 ultimately provides users a total software and hardware mobile NVR solution.
Main Features
Support up to 32 channels of pure IP with megapixel camera
CPU supported Intel® Core™ i7-620M PGA processor (2.66GHz, 4M Cache)
Intel® Core™ i5-520M PGA processor (2.4GHz, 3M Cache)
Intel® P4500 PGA processor (1.86GHz, 2M Cache)
Mobile Intel® QM57 PCH
Dual Intel® Gigabit Ethernet ports
Dual VGA or VGA/ DVI independent display
3 x RS232 and 1 x RS232/ 422/ 485 with auto flow control
On-board DC to DC Power design to support 9V to 30V DC power input
Support ATX power mode and PXE/ WoL
4 ports PoE (optional 8 ports PoE), IEEE 802.3af compliant, deliver 15.4W per port
Optional NViS NVR software or 3rd party NVR application
Ordering Information
NViS3540P4 (P/N: 10C03540P00X0) RoHS Compliant
Intel® Core™ i7/i5 system with 4-port PoE, swappable HDD socket
NViS 3540P8 with 8 ports PoE (optional)
NISKIG 120 Power Ignition Module (optional)