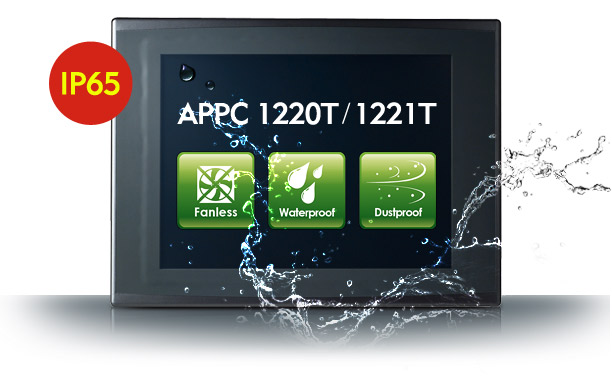 Hot on the heals of the APPC 1720T series of 17" Panel PC, NEXCOM is pleased to introduce two 12.1" platforms known as APPC 1220T/1221T, which are also based on the powerful Intel® Atom™ D525 CPU. By incorporating the Intel® Atom™ D525 processor and DDR3 memory, the APPC 1220T series Panel PC with fanless design has double the computing power of similar N270 CPU based products.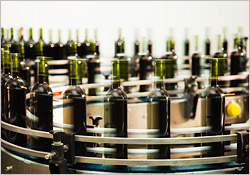 For applications which require protection against water, dust or humidity IP certification is essential. Equipped with IP65 compliant front panel, the APPC 1220T series of Panel PC provides protection from liquid and moisture damage which allows users to clean the surface directly using high-pressure water jets. This feature makes the APPC 1220T series especially suitable for applications where stringent hygiene levels are important, such as within the food and beverages industry.
Use of incorrect power voltages may damage electric components and shorten the product life. To solve this problem and to protect the product by converting different voltage inputs, NEXCOM's APPC 1220T series of Panel PC, supports multiple power inputs, from 12V to 30V. This makes the APPC 1220T series the ideal solution for telecoms, factory and machine applications.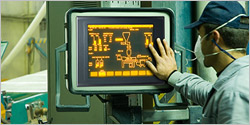 In addition, the all-in-one APPC 1220T series, incorporates a vast array of I/O interfaces, offers expansion flexibility for controlling subsystems and automation hardware, it will therefore find applications within warehouses, logistics and access control. The back cover can be easily removed to access the additional 2.5" HDD and two mini-PCIe slots.
Two variants are available, APPC 1220T is the standard platform, whilst APPC 1221T has two RS-232/422/485 COM ports with isolation to address industrial applications plus two additional RS-323 COM ports. In addition, one GPIO port for 4 input/output is available for digital control. There is also an optional CAN bus interface to communicate with CAN bus devices.
Main Featurs
12.1", 800x600 industrial grade LCD panel & 5-wire flush touch panel integrated
Fanless system with Intel® Atom™ D525 dual core (1.8GHz, 1M Cache) processor
Rich I/Os : 4 COMs , D I/Os, 4 USB, dual Intel® LAN, 2nd VGA, Line-in, Line-out, MIC-in, optional CAN bus Interface
Dual PCIe expansion for wireless communication
Reliable, low cabling design through a dedicated single board computer
Both back and front metal housing with plastic front IP65 compliance and up to 50 degree high temperature and high vibration resistant
Ordering Information
Barebone
APPC 1220T (P/N: 10IA1220T00X00)
12.1" TFT LED Panel PC with Intel® Atom™ D525 1.8 GHz, touch screen, 1GB DDR3, COM#1/ #2
APPC 1221T (P/N: 10IA1221T00X00)
12.1" TFT LED Panel PC with Intel® Atom™ D525 1.8 GHz, touch screen, 1GB DDR3, COM#1/ #2 w/ isolation, COM#3/ #4, GPIO (CAN bus Optional)