NEXCOM network-attached storage (NAS) iNAS 330 offers data a safe harbor from hostile operating environments. Built with robust data protection at the hardware and system levels, the iNAS 330 delivers data resilience, integrity, and manageability to provide enhanced data availability for data-critical applications in the transport, oil and gas, and industrial sectors.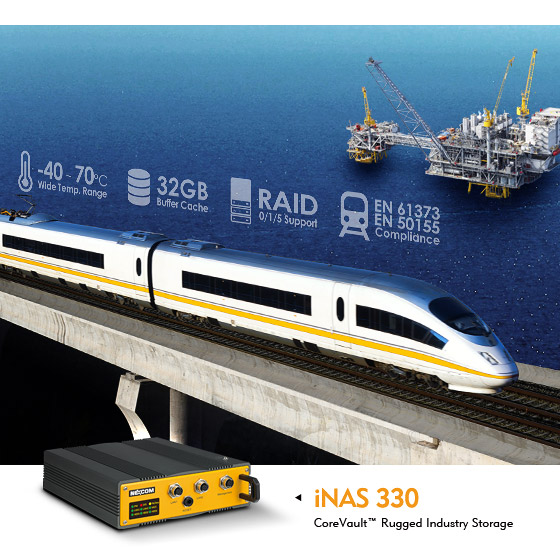 "The demand for robust data storage at the edge end of IoT is rising as the proliferation of IoT applications is picking up the pace. At NEXCOM, we believe the long-standing hard disk drives (HDD) and solid state drives (SSD) dilemma can be solved with a storage unit bringing data reliability at an affordable cost per gigabyte. With the release of NEXCOM iNAS 330, we aim to help improve public transportation safety with bus and train surveillance and enable data-based decision making in factories, oil rigs, and more," said Peter Yang, President of NEXCOM.
The iNAS 330 comes with three hard drive bays to address the needs for both large storage capacity and high fault tolerance. Depend on application requirements, the iNAS 330 can provide a maximum capacity of 3TB or a 2TB RAID 5 array to ramp up data resilience which enables data to be restored in a hard drive failure scenario with the replacement of a failed drive.
To maintain data integrity in harsh environmental conditions, the IP54-rated iNAS 330 is engineered to mitigate risk factors including vibrations and shocks, temperature extremes, and water and dust ingress. The iNAS 330 compliant with EN 61373 and EN 50155 standards shows high vibration and shock endurance suited to railway applications. If vibrations or shocks exacerbate, a buffer cache will take the place of hard drives to prevent speed drops, error-prone operations, and mechanical failures altogether. Moreover, redundant data connections and power supplies are supported by two screw-fastened M12 connectors to offer expanded throughput and failover for uninterrupted high-speed data transmission and power.
For use in the freezing cold and sizzling heat, the iNAS 330 can operate in the temperature range of -40 to 70 degrees Celsius when configured with SSD and -25 to 55 degrees Celsius with HDD. If the temperature falls below the range, embedded heaters can draw a combined total of 60 watts of power from two 802.11at PoE+ ports to quickly warm up the iNAS 330 to the required working temperature, and keep the temperature within the range throughout the operation.
As to data management, the iNAS 330 has a dedicated port for managerial purposes, which can separate data query traffic to avoid unauthorized changes to system settings.
Main Features
3x HD bays for 3TB capacity
Data protection in harsh environments
Enhanced system reliability with compliance with EN50155 and EN61373
Redundant data and power design with 2x 802.3at PoE+
Extended temperature support from -40°C to 70°C (SSD)
IP54-compliant for water and dust resistance
Ordering Information
iNAS330 (P/N:101G0033000X0)
Rugged industry storage (3 years service & maintenance)