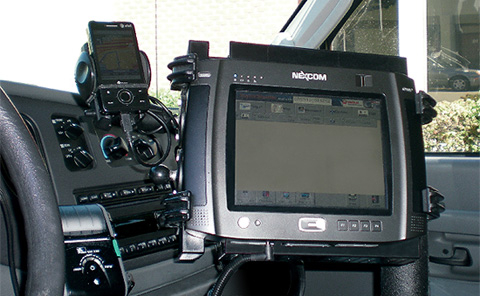 NEXCOM, a leading manufacturer of embedded computing technology, is working closely with SuperShuttle to deploy the Rugged Tablet PCs to its franchise drivers. The Rugged Tablet PC is designed to pickup service and boost drivers' mobile productivity. SuperShuttle customers will experience an improved convenience with easy accounting features for discount fares and credit card payments.
NEXCOM's 8.4" rugged and sunlight readable Rugged Tablet PC, MRC 2100, is equipped with GSM, GPRS, HSDPA, WCDMA Wi-Fi and Bluetooth, allowing SuperShuttle's drivers to get in touch anytime they want and everywhere they go. Replacing the conventional radio dispatching, drivers now get a reservation request directly from a dispatch operation center to the driver's in-vehicle Rugged Tablet PC, which eliminates the errors in voice dispatch, showing the exact pickup location on a map. Along with the Geospatial Navigation toolkit provided by Telogis Geobase, the system can automatically optimize routes in timely fashion.
"We think the NEXCOM Rugged Tablet PC is a real game changer for our customers and our drivers creating a seamless customer service experience for our franchise drivers and the customers alike," said Mike Hogan Chief Information Officer for SuperShuttle International and Veolia Transportation.
Additionally, the large sunlight readable touch screen is perfect for displaying maps and detailed information about reservations. It will cut down on driver distraction allowing drivers to focus on the road and the customer experience.
The built-in barcode scanner allows prepaid tickets, vouchers and promotional discounts all scanned into the system thus saving time and enabling efficient book keeping for both drivers and the customers.
The in-vehicle POS system combining with real-time communication and navigation becomes essential to fleet dispatch and logistics management. NEXCOM is a leader in building teams with other software firms committed to providing the seamless solutions to meet customer's business needs.
About NEXCOM

NEXCOM International Co., LTD., an ISO-9001-certified company and a member of PICMG, PCI-SIG, and Intel Embedded and Communications Alliance, is at the forefront of the competition by offering OEM, ODM and OBM designs for products such as innovative blade servers; network security appliances; industrial and embedded PC products such as single board computers, embedded boards and systems; CompactPCI CPU boards; industrial-grade server boards; and customized platforms. Established in 1992, NEXCOM has since won several patents, awards, certifications for its high-quality products and service that meet international standards and worldwide customers' requirements. To serve its worldwide customers well, NEXCOM, headquartered in Taipei, Taiwan, has set up 7 subsidiaries in the United States, the United Kingdom, France, Italy, Germany, China, Japan as well as distributors in the other parts of the world.

About SuperShuttle

SuperShuttle International, based in Phoenix, AZ is a division of Veolia Transportation On Demand and a subsidiary of Veolia Environnement (Euronext: VIE, NYSE: VE). SuperShuttle serves 33 airports, carrying more than eight million passengers a year. Airports served by SuperShuttle include some of the largest in the country including Los Angeles, New York, Dallas/Ft. Worth, Washington, D.C. and Miami. Please go to www.supershuttle.com for more information.