NEXCOM announces the new generation Open Frame Panel PC series to help build customized branding and industrial grade reliability into kiosks. The OPPC series features a slim open frame design, long MTBF of 50,000 hours, and low power consumption. Built for long hour operation and low maintenance, the OPPC series can be flexibly fitted in various retailing and hospitality applications.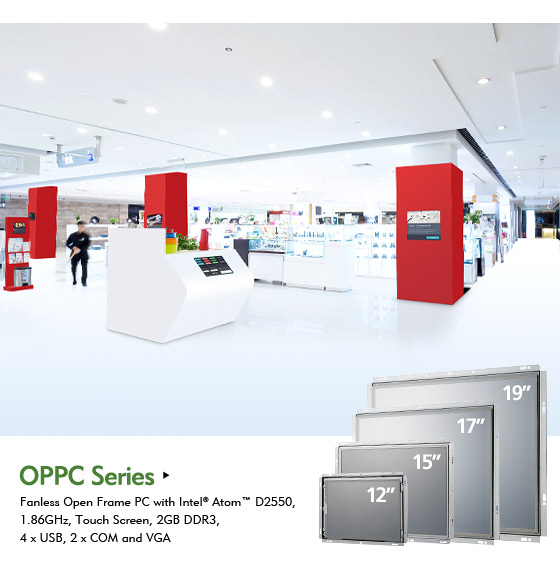 NEXCOM Open Frame Panel PC series features a bezel-free touch display. The slim open frame design enables the OPPC series to be easily fitted with an enclosure or an end system that is highly customized for branding. Based on Intel® Atom™ processor D2550, the OPPC series has Full HD multimedia capability and up to SXGA resolution (1280x1024). The OPPC series supports a second display and is ideal for multifunctional kiosks providing, for instance, self-service and advertising or other dual display applications.
To ensure reliability, the OPPC series incorporates an industrial motherboard and an industrial LED touch panel both of which have low power consumption and above-average mean time between failures (MTBF) of 50,000 hours. Moreover, the OPPC series is fanless and provides optional isolation protection on COM ports to prevent dust accumulation and transient voltage surge. In short, the OPPC series delivers enhanced reliability and has a long lifespan.
NEXCOM Open Frame Panel PC series is available with four display sizes: 12", 15", 17", and 19". For dual-display applications, NEXCOM also provides same-size NEXCOM APPD Industrial Touch Monitor series which can be used as a second display of the OPPC series. For ease of installation, the OPPC series supports various mounting options including open frame mount from rear and front sides, panel, VESA, and wall mount.
Main Features
4:3 fanless LED open frame Panel PC with up to SXGA resolution (1280 x 1024)
Dual core Intel® Atom™ processor D2550 with low power consumption
2x GbE, VGA and HDMI for 2nd Display, Line-in, Line-out, MIC-in
4x USB, 2x Mini-PCIe sockets, 1 x CFast, 2x RS232/422/485
2GB of DDR3, 2.5" HDD Bracket
Open frame/Panel/VESA/Wall mount
12V~30VDC wide range power input
Optional 3.5G/Wi-Fi module
Ordering Information
OPPC 1230T (P/N: 90IQ1230T00X0)
12.1" SVGA TFT LED backlight open frame PC with Intel® Atom™ D2550, 1.86GHz, touch screen, 2GB DDR3, 2x COM
OPPC 1530T (P/N: 90IQ1530T00X0)
15" XGA TFT LED backlight open frame PC with Intel® Atom™ D2550, 1.86GHz, touch screen, 2GB DDR3, 2x COM
OPPC 1730T (P/N: 90IQ1730T00X0)
17" SXGA TFT LED backlight open frame PC with Intel® Atom™ D2550, 1.86GHz, touchscreen, 2GB DDR3, 2x COM
OPPC 1930T (P/N: 90IQ1930T00X0)
19" SXGA TFT LED backlight open frame PC with Intel® Atom™ D2550, 1.86GHz, touchscreen, 2GB DDR3, 2x COM
12V, 60W AC/DC power adapter w/o power cord (P/N: 7400060017X00)