NEXCOM IoT gateway NISE 50C aids enterprises in the exploration of the dynamics of business operations. The compact fanless NISE 50C features versatile functions for real-time control, machine-to-machine (M2M) communication, and seamless cloud application integration. Along with the pre-tested compatibility to work with Microsoft Azure IoT Suite, the NISE 50C can bring insightful eyes to modern practices of including asset management, predictive maintenance, and cloud-based monitoring.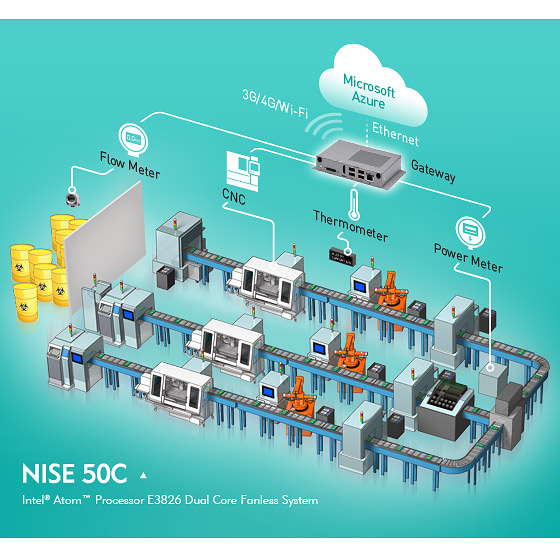 "It has been NEXCOM's goal to provide clients with total IoT solutions which span from the fundamental hardware platform like NEXCOM IoT gateways to NEXCOM IoT Studio cloud configuration software. Joining the Azure Certified for IoT program complements NEXCOM's offerings with access to cloud analytic services, making NEXCOM a forerunner in the industrial sector," said Joe Lin, general manager of NEXCOM's IoT Automation Solutions Business Group.
To empower IoT applications, NEXCOM IoT gateway NISE 50C is designed with control, communication, and connect capabilities suited to edge controllers and data concentrators. The IoT gateway can govern connected devices and manage the collection, storage, and transmission of sensor data. To help dig for potential unexplored value in data, the NISE 50C is tested for readiness, compatibility and usability with the Azure IoT Suite, providing access to preconfigured solutions for data analysis and visualization apt for predictive maintenance in manufacturing.
Tailored for industrial uses, the NISE 50C comes with an onboard dual-core Intel® Atom™ processor E3826, 2GB of RAM, 16GB of flash memory, an integrated set of interfaces including four USB 2.0, three RS232, and one LAN ports, and a compact fanless enclosure. Toughened for system reliability and availability, the NISE 50C can operate against environmental factors such as dust, shock, and vibration.
"Microsoft Azure Certified for IoT extends our promise to bring IoT to business scale, starting with interoperable solutions from leading technology companies around the world," said Barb Edson, general manager for Data Platform and Internet of Things, Microsoft. "With trusted offerings and verified partners, Microsoft Azure Certified for IoT accelerates the deployment of IoT even further."
Main Features
Onboard dual-core Intel® Atom™ processor E3826
4 x USB 2.0, 3 x RS232, 1 x HDMI ports
1 x GbE LAN port with WoL, teaming, and PXE support
3 x mini-PCIe slot for optional Wi-Fi/3.5G/LTE modules
Fanless design to support from -5 to 55 degree Celsius and 12V DC input