NEXCOM's next generation industrial panel PCs (IPPCs) renew HMI controls with enhanced graphics, interoperability, and ruggedness. Leveraging quad-core CPU upgrade, fieldbus, and EtherCAT support, the IPPC series improves operational efficiency with accurate, speedy visual processing, and integration flexibility. Built to meet HMI safety requirements for petrochemical and steel industries, the panel PCs are compatible with UL 61010-1 and UL 61010-2-201 standards.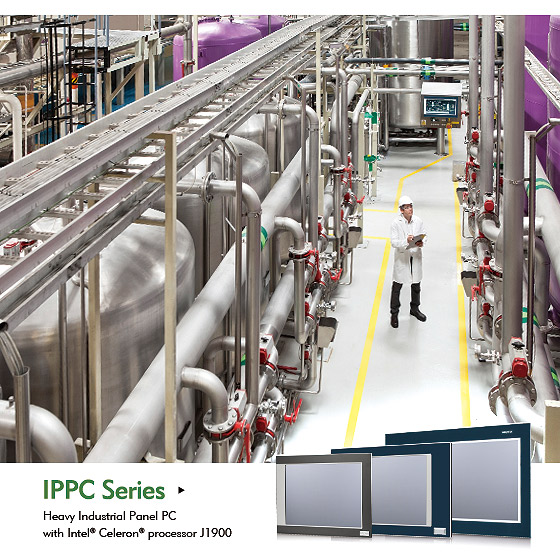 Offering various screen sizes in 15.6, 18.5, and 21.5 inches, the panel PCs still remain the same cutout size, aimed for simple upgrades with minimal disruption. Upgraded with Intel® Celeron® processor J1900, the IPPC series' improved computing and graphics performance allows accurate HMI controls with faster 3D visual processing, video transcoding, data exchange, and responsiveness.
The panel PCs provide ready-to-use controls and programming freedom for simply deployment. CODESYS Control RTE and CODESYS SoftMotion supports offer integrated I/O controls, machine functions, and visualization. JMobile Suite, on the other hand, offers HMI design freedom and remote supervision over smart devices with built-in HMI symbols, widgets, schedulers, and web-browser features.
To help build cyber-physical systems, the panel PCs are equipped with two mini-PCIe slots for 3G, 4G, Wi-Fi, fieldbus, and EtherCAT expansions, allowing seamless integration between operational technology and information technology with PLCs, SCADA, PMS applications, and Internet connections.
To meet HMI electric shock standards for safe operations in petrochemical and steel industries, the panel PCs follow UL 61010-1 and UL 61010-2-201 standards. The fanless IPPC series also has an IP66-rated aluminum front bezel to provide protection against airborne dust, chemical substances and water ingress for enhanced reliability and ruggedness.
Remote power on/off hardwire functionality is also added to the IPPC series for the convenience of power switching on embedded enclosures.
Main Features
Quad-core Intel® Celeron® processor J1900
4GB DDR3L, 2.5" HDD bracket
2x USB 2.0, 1x USB 3.0, 2x mini-PCIe sockets
2x GbE, VGA for 2nd display, Line-out
Support CODESYS Control RTE, CODESYS SoftMotion, and JMobile Suite
Metal housing , the flush design of IP66-rated front panel and aluminum front bezel
Ordering Information
IPPC 1640P (P/N: 10II1640P00X0)
15.6" WXGA LED backlight touch panel PC with Intel® Celeron® processor J1900, 2.42 GHz, touch screen, 4GB DDR3L, 2x RS232/422/485 and brightness adjustment buttons, optional fieldbus module
IPPC 1840P (P/N: 10II1840P00X0)
18.5" WXGA LED backlight touch panel PC with Intel® Celeron® processor J1900, 2.42 GHz, touch screen, 4GB DDR3L, 2x RS232/422/485 and brightness adjustment buttons, optional fieldbus module
IPPC 2140P (P/N: 10II2140P00X0)
21.5" Full HD LED backlight touch panel PC with Intel® Celeron® processor J1900, 2.42 GHz, touch screen, 4GB DDR3L, 2x RS232/422/485 and brightness adjustment buttons, optional fieldbus module
Options
12V, 60W AC/DC power adapter w/o power cord (P/N: 7400060019X00)

FBI Module Selection
PROFINET master interface: FBI90E-PNM (P/N: 88IA1932T00X0)
EtherNet/IP master interface: FBI90E-EP (P/N: 88IA1932T01X0)
EtherCAT master interface: FBI90E-ECM (P/N: 88IA1932T02X0)
PROFIBUS master interface: FBI90E-PBM (P/N: 88IA1932T03X0)
DeviceNet master interface: FBI90E-DNM (P/N: 88IA1932T04X0)