NEXCOM's performance-optimized fanless computer, the NISE 3700E, overcomes graphics-intensive tasks with enhanced visual processing power and multiple video streaming capability. Built for reliable performance in high electromagnetic, heated, and vibrating environments, the NISE 3700 meets EN 61000-6-2 and EN 61000-6-4 standards while equipped augment heat sinks and anti-vibration damper to maximize performances and uptime. Also, enhancement in I/O numbers and throughput allow multi-camera imaging applications such as optical alignment, assembly inspection, and gauging in factory automation or multi-station surveillance systems.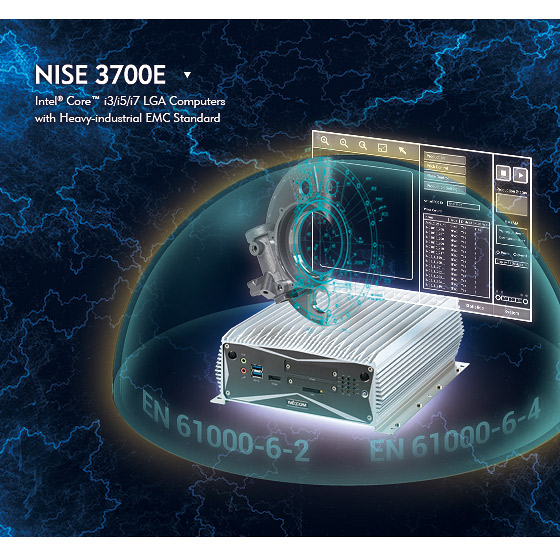 Upgraded with Intel® Core™ LGA 1150 socket type processors (titled Haswell Refresh), the fanless computer dashes the graphics performance and faster codecs than previous generation processors. Improved graphics and video codecs allow the NISE 3700E conduct complex 2D, 3D visuals, which can better fulfill different speed and precision of machine vision requirements. Multiple camera supports avoid blind spots while situational awareness allows operators or first responders to effectively and remotely respond to perceived threats.
In addition to fast visual performance, the fanless computer provides paired reliability for electromagnetic environments such as power stations, railways and metros, oil and gas, and mining. Meeting EN 61000-6-2 and EN 61000-6-4 heavy-industrial EMC standard, the NISE 3700E are intact from electrostatics and electric surges up to ±4kV for contact discharge, ±8kV (ESD) for air discharge, ±2kV (EFT), and ±1kV (Surge).
For enhanced transmission throughput and expandability, the fanless computer not only increases I/O ports but also transmission throughput. Three GbE LAN and four USB 3.0 ports streamline high-speed cameras for enhanced accuracy and productivity while GbE LAN also allows for high-speed Internet access. Two mini-PCIe expansion slots simplify integration with add-on cards, storage, peripherals, and 3G/4G/Wi-Fi connection while boost higher data loads for quicker video data transmission.
Main Features
Support Intel® Core™ LGA 1150 socket type processors including Intel® Core™ i7-4770TE processor, Intel® Core™ i5-4590T processor, Intel® Core™ i3-4350T processor, Intel® Pentium® processor G3320TE, and Intel® Celeron® processor G1820TE
Three GbE LAN ports supporting PXE, Teaming, and Wake-on-LAN
2x internal Mini PCIe sockets for optional fieldbus/3G/4G/Wi-Fi/mSATA
4x USB 3.0, 4x USB 2.0, 1x RS232 and 2x RS232/422/485 with flow control
Robust enclosure with optimized heat sinks and anti-vibration damper
DC input range: 9-30V
Ordering Information
NISE 3700E System (P/N: 10J00370000X0)
One PCIe x4 expansion with Intel® Core™ i3/i5/i7 processors
NISE 3700E2 System (P/N: 10J00370001X0)
Two PCIe x4 expansion with Intel® Core™ i7/i5/i3 processors
NISE 3700P2 System (P/N: 10J00370002X0)
Two PCI expansion with Intel® Core™ i7/i5/i3 processors
NISE 3700P2E System (P/N: 10J00370003X0)
One PCI and one PCIe x4 expansion with Intel® Core™ i7/i5/i3 processors
24V, 120W AC to DC power adapter w/o power cord (P/N: 7400120015X00)