As Internet of Things (IoT) has been a hot topic for recent years. IoT depicts an aspiring scenario where everything is connected, information collected, and knowledge extracted. A better life than ever before is lying ahead of us. IoT also seems to be a remedy for a weakening IT market, including industrial PC (IPC) and almost all subcategories of the IT industry. The future seems so bright, but there is a drawback. The underlying technologies behind IoT are too complicated.
For IoT to success, three issues must be resolved when implementing IoT. The first issue is unified communication. As legacy devices and equipment communicate over proprietary protocols, synchronizing heterogeneous data can be a daunting task, let alone exchanging data over different networks using different protocols.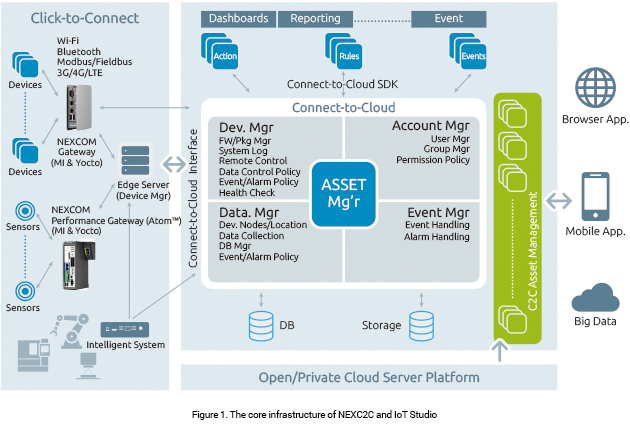 The second issue is device management including authentication, authorization, and accounting. A management mechanism is also required to manage a high volume of widely distributed, discrete heterogeneous devices and sensors.
And third, the security issue must be addressed to ensure that device- and sensor-generated data is not sabotaged or compromised during the transfer. The data integrity is especially critical to some applications, not to mention that the malicious attacks on IT infrastructure must be contained.
With expertise and years of experience in many vertical markets, NEXCOM has solutions to all three issues. As the lack of unified communication is the major obstacle hindering the growth of IoT, NEXCOM has developed a new technology NEXC2C to remove the communication barrier and therefore realize heterogeneous data exchange. NEXCOM's NEXC2C technology can translate different protocols and data formats so users can focus on developing innovative applications by making use of data, instead of spending time and efforts customizing a gateway platform for data acquisition.
NEXC2C is composed of two function sets: Click-to-Connect and Connect-to-Cloud. Click-to-Connect provides Plug-n-Play mechanism with NEXCOM IoT Studio which is a GUI using Node.js and Node-RED. With built-in drivers and algorithms, the core logic of NEXC2C treats devices and sensors as data generators, and refers to each data extracted from the devices and sensors as a node.
Based on the tags, raw data, and pre-defined patterns, these nodes are collected, identified, categorized, and represented on a data node board in NEXCOM IoT Studio. Node categories are defined by data formats, protocols, and other attributes and are shown in different colors and texts so they can be very distinguishable.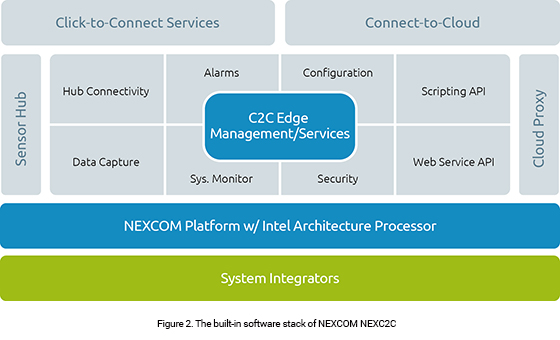 Through drag-n-drop operations, a node can be easily linked to another node which could be a process node for data parsing or other operations. At the end of a link node, a node will be added to determine where information users need should be sent.
After data flow is set, users can create a dashboard to build a customized view of information, such as pressure readings, temperature measurements etc. It may be enough for local management. However, to build enterprise-level manageability into a wide-area sensor network will require internet access and cloud service. Furthermore, cloud services offer more practical and comprehensive solutions for processing high volume of device-generated data so implementing cloud services becomes more important than ever.
To help users integrate cloud services without going through complicated setting and configuration steps, NEXCOM Connect-to-Cloud is designed to make implementing cloud service as easy as navigating through a self-service menu. NEXCOM Connect-to-Cloud provides built-in connections to major public and private cloud services. Checking the desired cloud services and confirming the connections are all it takes for the implementation. The core infrastructure of NEXC2C is illustrated in Figure 1, and Figure 2 shows built-in software stack of NEXC2C.
NEXCOM's NEXC2C technology can extract information from heterogeneous data sources and provide an easy way to use cloud services. Meanwhile, NEXC2C's functionality is being expanded to facilitate management of large-scale widely distributed network. A new function set is under development and will include device management, data management, event management, and account management tools.
In addition, the upcoming revamped NEXCOM IoT Studio GUI will provide users a single unified interface for accessing NEXC2C Click-to-Connect, Connect-to-Cloud, and management function sets as well as other IoT technologies. In other words, users can define data flow and create dashboards and applications within a single GUI. Moreover, NEXCOM IoT Studio will support Open Interconnect Consortium (OIC), Intel Mashery, and other well-known IoT services to form a complete ecosystem.
As a leading IoT solution provider focusing on vertical domains, NEXCOM is dedicated to developing solutions for technical challenges arising from the IoT trend. In addition to NEXC2C and IoT Studio, NEXCOM will create more tools to help our customers focus on their core competitiveness and value creation.