NEXCOM EtherCAT robotic solution, NexROBO, introduces openness and modularity to the rigid robot architecture, unleashing possibilities for in-house development, add-on functionality, and reconfiguration of robots. Based on an open and modular architecture, NEXCOM EtherCAT robotic solution delivers development flexibility and expandable functions with both hardware and software building blocks. Integrating a variety of EtherCAT Master controllers, pre-validated third-party EtherCAT slaves, and NEXCOM EtherCAT Master development stack, the solution stimulates the broad use of robotic systems and industrial robots to fuel the robot boom in manufacturing.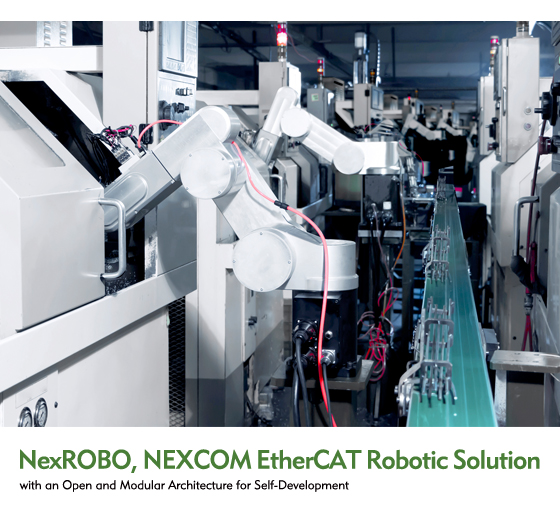 NEXCOM EtherCAT robotic solution breaks robot systems into discrete modules to liberate system integrators and robotics engineers from specification lockdown. The solution offers a broad selection of NEXCOM EtherCAT Master controllers, robot arms, drives and motors, I/Os, industrial cameras, and teach pendants; engineers can choose ones that best fit an application's needs. Building, expanding, and reconfiguring robots with desired functions are now viable and simple thanks to the modular design.
This flexibility is further enhanced with NexECM—an EtherCAT Master development stack—of NEXCOM EtherCAT robotic solution. As EtherCAT communication is leveraged for robotic control, NexECM provides pre-validated compatibility and smooth communication between NEXCOM EtherCAT Master controllers and EtherCAT slave modules from different brands. More importantly, control algorithms are pre-written and APIs embedded to accelerate the planning and control of industrial robots of 6-axis articulated robots, delta robots, and SCARA robots. With unprecedented flexibility from the bottom to the top of the robot development, manufacturers can create robot applications in-house, retaining industry expertise and hands-on knowledge inside the organization.
In addition to industrial robots, the solution can also coordinate with EtherCAT-based industrial automation and control systems, extending the scope of automation across the factory floor. For the implementation of production line integration, collaborative robot (CoBot) systems, machine vision integration, and other advanced control applications, NEXCOM experts are at the service of system integrators and robotics engineers for consult and support.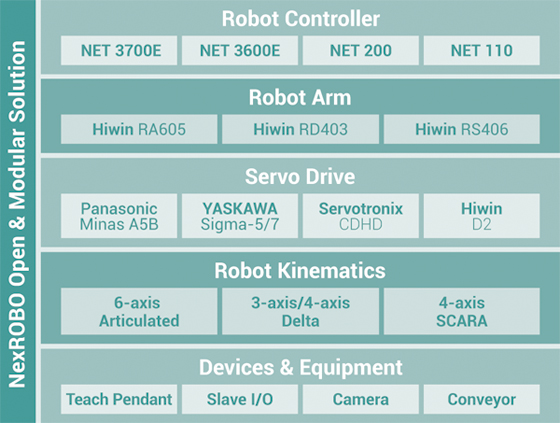 NEXCOM EtherCAT Robotic Solution
NEXCOM EtherCAT Master Controller
NET 3700E-ECM
High-performance EtherCAT Master controller powered by Intel® Core™ i7-4770TE processor
NET 3600E-ECM
High-performance EtherCAT Master controller powered by Intel® Core™ i5-3610 processor
NET 200-ECM
Front-access compact EtherCAT Master controller powered by Intel® Celeron® processor J1900
NET 101-ECM
Front-access compact EtherCAT Master controller powered by Intel® Atom™ processor E3826
Robot Arm
Hiwin RA 605
6-axis articulated robot
Hiwin RD 403
Delta robot
Hiwin RS 406
SCARA robot
EtherCAT AC Servo Drive and Motor
Panasonic Minas A5B
Panasonic EtherCAT communication drive and motor
YASKAWA Sigma-5/Sigma-7
YASKAWA AC servo drive/motor
Servotronix CDHD
Servotronix high performance servo drive and motor
Hiwin D2
Hiwin AC servo drive and motor
EtherCAT I/O
AXE-9200
16ch digital input and 16ch digital output EtherCAT slave module
Teach Pendant
TP 100
10.1" multi-touch teach pendant
Industrial Camera
ROKA 30
0.3-megapixel camera with 100 fps
ROKA 130
1.3-megapixel camera with 60 fps
ROKA 500
5-megapixel camera with 15 fps
NexECM EtherCAT Master Development Stack
Built-in EtherCAT configurator
Control algorithms of inverse kinematics, point-to-point movement, etc
CiA 402 motion library support
Support up to 64 EtherCAT slaves
Ordering Information