To infuse mobility into industrial wireless network, NEXCOM has introduced the tri-radio self-mesh Wi-Fi AP IWF 6300 series paired with the mobility station IWF 3310 series. Featuring multiple RFs, self-meshing, fast roaming, and hopping functions, the IWF 6300 and IWF 3310 series can boost Wi-Fi reliability, mobility, and availability to build a fast and always-on industrial wireless network for use in applications including warehouse and port operations, on-train Wi-Fi service, and utility surveillance.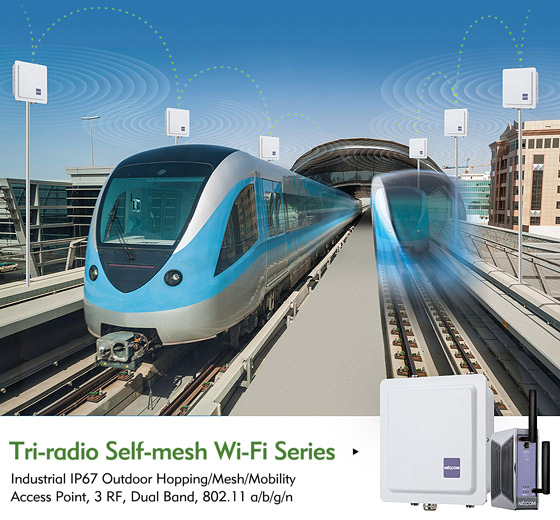 The self-mesh Wi-Fi AP IWF 6300 series has up to three radio frequencies to build a resilient network with optimized transmission efficiency and self-healing capability. With support for a ten-node mesh network, the IWF 6330 series can determine the best path based on signal strength and transmission distance. The feature not only enhances Wi-Fi performance even in cluttered warehouses and container ports but also provides route failover to ensure always-on connection.
To deliver seamless Wi-Fi mobility, the self-mesh Wi-Fi AP IWF 6300 series supports fast roaming. With a handover switch time of less than 20 milliseconds, the IWF 6300 series allows the mobility station IWF 3310 series to seamless roam at the moving speed of up to 140kmh. The combination of NEXCOM self-mesh Wi-Fi AP and mobility station offers steady Wi-Fi connection to port operators, park rangers, and even passengers on the train and metro system.
In addition, the hopping feature enables the IWF 6300 series to connect to Wi-Fi clients while creating a backbone network for long distance data transmission. By maintaining the data rate steady at 100Mbps after ten hops, the IWF 6300 series can relay more than ten streams of HD surveillance video, bringing industrial wireless connectivity to remote sites to help monitor highway traffic, oil and gas pipelines, and utility facilities.
The IWF 6300 series includes IWF 6330H, 6330M, 6320H, and 6320M. The four self-mesh Wi-Fi APs support 802.11 a/b/g/n, up to three RFs with 2x2 MIMO, temperate range of -35 to 75°C, and IP67 for outdoor use. The IWF 3310 series consists of industrial mobility stations IWF 3310XH and IWF 3310XM with one RF and supports for IP30 and extended temperature range of -40 to 80°C.
Main Features
Self-mesh Wi-Fi AP
IWF 6300 Series

Industrial Mobility Station
IWF 3310 Series

Standard

IEEE 802.11a/b/g/n

IEEE 802.11a/b/g/n

Radio

Up to 3 radios with 2x2 MIMO,
300 Mbps

1x radio with 2x2 MIMO,
300 Mbps

Advanced Technology

Hopping
(> 100Mbps after 10 hops)

Hopping
(> 100Mbps after 10 hops)

Roaming
(Handover switch time < 20 ms)

Roaming
(Handover switch time < 20 ms)

Mesh

-

Power

48VDC PoE

2 x 12 ~ 48VDC and PoE

-35 to 75°C

-40 to 80°C

Safety

EN50155

IP Rating

IP67

IP30
Ordering Information
IWF 6330H-US (P/N: 10T00633103X0)
IWF 6330H-EU (P/N: 10T00633102X0)
IWF 6330M-US (P/N: 10T00633101X0)
IWF 6330M-EU (P/N: 10T00633102X0)
IWF 6320H-US (P/N: 10T00632003X0)
IWF 6320H-EU (P/N: 10T00632000X0)
IWF 6320M-US (P/N: 10T00632003X0)
IWF 6320M-EU (P/N: 10T00632002X0)
IWF 3310XH-US (P/N: 10T00331001X0)
IWF 3310XH-EU (P/N: 10T00331000X0)
IWF 3310XM-US (P/N: 10T00331003X0)
IWF 3310XM-EU (P/N: 10T00331002X0)