NEXCOM's digital signage player NDiS 127 has been certified for DISE 8 by one of the top leaders in digital signage software, DISE. DISE 8 is designed to improve workflow and make attractive software designs easier to implement. With DISE 8 software, the digital signage player NDiS 127 delivers excellent value for money. It is suitable for image slideshows, menu boards, room reservation displays, passenger information displays and emergency messaging.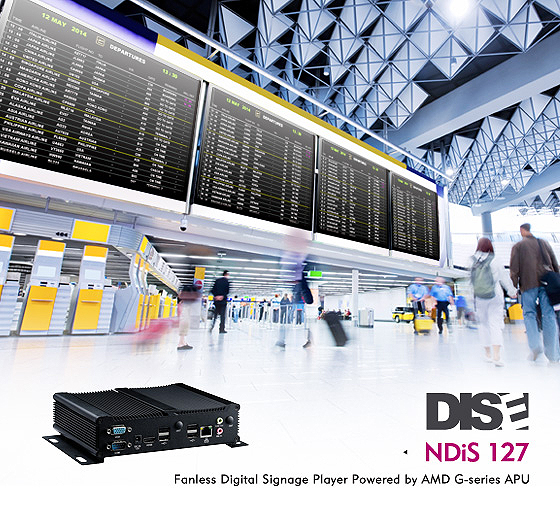 NEXCOM's NDiS 127 is powered by AMD Embedded G-series T56N 1.65GHz dual core processor with AMD Radeon™ HD6320 integrated graphics engine supporting DirectX® 11. With combined architecture of CPU and GPU, NDiS 127 can efficiently allocate processing resources to handle graphics in a fast, sophisticated fashion. In addition, the player is able to play 1080P contents simultaneously on two separate displays without the nuisance of low frame rates, graphics error, or excessive loading time.
NDiS 127 also houses one 2.5" HDD, one VGA port, one HDMI port, four USB ports, one serial port and two mini PCIe expansion slots for Wi-Fi, 3G, Bluetooth and TV tuner support . With ample extension options, NDiS 127 can be configured to satisfy different demands. As such, the NDiS 127 is an ideal solution within advertising, hospitality, transportation, commerce and retail industries.
Main Features
AMD Embedded G-Series APU T56N dual core processor
AMD Radeon™ HD6320 integrated graphics engine
Support DirectX® 11
Compact and fanless design
Two mini-PCIe expansion slots
Ordering Information
NDiS 127 (P/N: 10W0012700X0)
AMD G-series Dual Core processor T56N 1.65GHz, AMD Radeon™ HD6320 GPU in processor, AMD A55E Controller Hub