NEXCOM is pouring resources into the development of ARM SOC solutions, in a new push to strengthen its position before the advent of Internet of Things (IoT). NEXCOM now combines its board design talent, system integration skills and RISC-based ARM SOC prowess to develop solutions which appeal to a wide range of applications that call for an optimal balance of performance, efficiency, size and cost for its devices.
With expertise accumulated from decades of experience, NEXCOM is now bringing its R&D strength to focus on ARM SOC product development. "No matter if it is a board level product or system which be integrated into a cabinet, all solutions will be offered with board support package (BSP) for multiple operating systems. NEXCOM has accumulated a wide variety of system software and device driver capabilities and with a wide knowledge database, we can deliver a tailor-made solutions with a better cost performance ratio for each individual project" said James Chan, CTO of NEXCOM.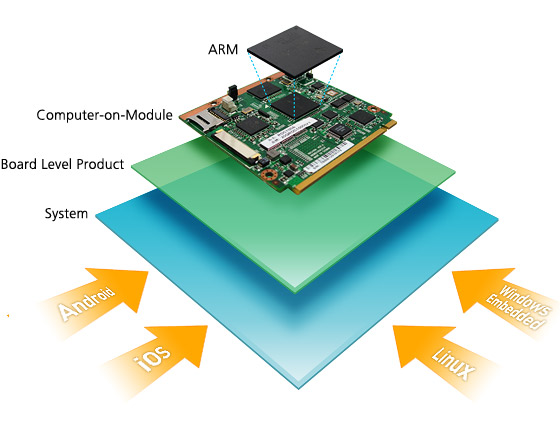 Before evolving into much powerful SOC solution, ARM microprocessor with its well known characteristics and advantages of RISC architecture has been widely used in many embedded applications. ARM microprocessor can achieve an ideal CPU performance with fewer transistors, demanding less power and generating less heat as and therefore the combined advantage of small die size and economic package gives ARM microprocessor the cost-competitive edge. In addition, the instruction set for ARM microprocessor is simple concise and consistent, so that less new programming is required for each generation which means new solutions can be implementation in the minimum amount of time.
"The ARM microprocessor has gone a long way in embedded computing. Yet, the future is even more promising as the Internet of Things starts to unfold to its full potential. The smart connected Internet devices forecasted to reach 15 billion units by 2015, tripled from 2 billion in 2010, will be holding up as an important pillar for IoT" said Clement Lin, the Chairman and CEO of NEXCOM.
NEXCOM is now providing versatile solutions across several application domains based on ARM SOC platform, enabling its partners to promptly seize the opportunity of an emerging technology paradigm shift. More than CPU performance, ARM SOC features low power consumption, thermal efficiency, small size and low cost so is deemed as the appropriate solution in considering TCO for most application environments.
NEXCOM will exhibit ARM SOC solutions at Hannover Messe 2012, which will take place from April 23rd to April 27th in Hannover, Germany. Experience the amazement of ARM SOC solutions in person at exhibit booth A67, Hall 9, Convention Center, Hannover.