NEXCOM positions the EZ controller as a tiny, cost-effective fanless PC which is targeted at space critical computing applications. In addition to the already popular NISE 100 fanless PC, NEXCOM has recently expanded its range of EZ controllers with the launch of the NISE 101 and NISE 110 fanless PC.
NISE 110 fanless PC is equipped with 2x CAN Bus 2.0b and 2x RS232 interfaces and is housed in a palm-size fan-less chassis which measures just 185mm (W) x 131mm (D) x 54mm (H). With a compact design, NISE 110 fanless PC is the perfect solution for space critical applications and for use as a local controller for industrial automation. Utilizing the Intel® Tolapai EP80579 integrated processor, NISE 110 fanless PC provides two CAN bus (2.0b protocol) interfaces for real-time control applications, which can support both 11 bit and 29 bit identifiers at bit rates up to 1Mbps with 40MHz clock frequency.
NISE 110 fanless PC is also integrated with one IEEE1394a, dual GbB LAN and 2x RS232 communication interfaces. NISE 110 fanless PC can be applied to the fieldbus applications typically as a part of a digital communications network within process control and industrial automation. Taking the advantage of low power consumption (<= 30W) and the 12V DC input, NISE 110 fanless PC is the best solution for machine automation including packaging, printing or molding machine, building automation, power management device, building automation like elevator control and security signal control…etc.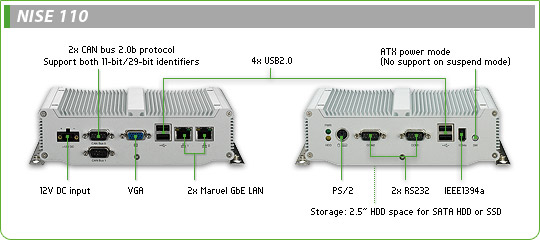 NISE 101 fanless PC is a tiny, fan-less, industrial computing system which is housed in a 185mm(W) x 132mm(D) x 54mm(H) chassis. Based on the Intel® Atom™-based N270 1.6GHZ processor and 945GSE embedded chipset, NISE 101 fanless PC is a lightweight, energy-efficient solution which boasts both performance and reliability and is therefore capable of industrial grade non-stop system operation. The NISE 101 fanless PC supports one RS232, one RS232/422/485, two 10/100/1000 LAN port, two USB ports, one PS/2 for keyboard/mouse, one VGA and one DVI-D display. With 12V DC input, NISE 101 fanless PC can easily be linked with a DC power source or through AC/DC power adapter. Taking advantage of low power consumption, NISE 101 fanless PC is suitable for use in harsh or quiet environments. With compact dimensions and good performance features, NISE 101 fanless PC is idea for gate control, public information, self-service system, POS, Kiosk, low-power budget devices, LED signage and logistic system applications.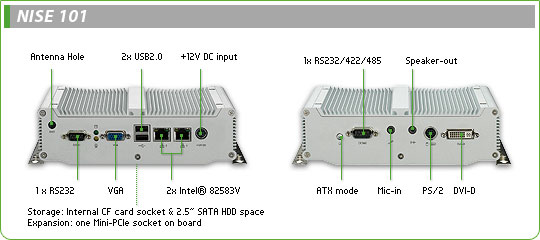 Functionalities Enhancement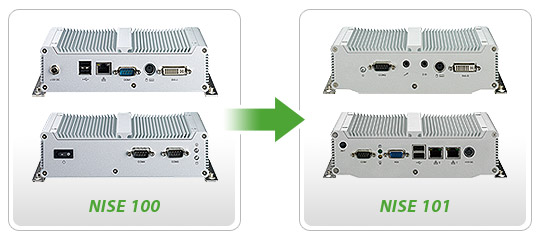 Iteam

NISE 100

NISE 101

GbE LAN

1

2

LAN Controller

Realtek

Intel®
Display

1x DVI-I

1x VGA & 1x DVI-D

Serial

1x RS232/422/485 & 2x RS232

1x RS232/422/485 & 1x RS 232

Audio

N/A

1x Mic-in & 1x Speaker-out

Storage

1x 2.5" HDD space

1x 2.5" HDD space
1x CF socket
Expansion

N/A

Mini-PCIe

Power Adapter

Include

Option