NEXCOM EtherCAT Master controllers, NET series, expand with 64-bit support to move industrial automation and control systems up a gear. Targeting at high-speed real-time motion control systems, the NET series with 64-bit support can accelerate the execution of complex automation schemes, intricate robot control, and sophisticated image processing, allowing deterministic control and machine vision integration of advanced motion control applications.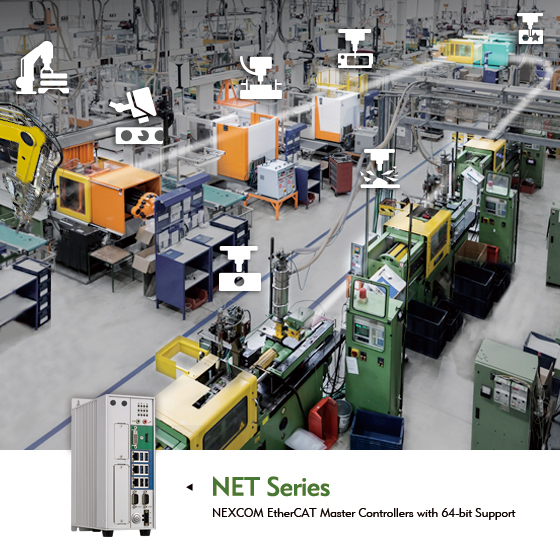 NEXCOM EtherCAT Master controllers have added 64-bit support with 64-bit operating systems (OS), 64-bit real-time extension, and 64-bit EtherCAT Master stack to help advanced motion control systems tap the full potential of the NET series. Capable of handling more system memory more effectively than 32-bit systems, the NET series with 64-bit support boasts high system performance and responsiveness that are requisite for both closed-loop control systems and event response applications to operate reliably and in real time.
The 64-bit NET series has various applications ranging from administering process control as a proportional-integral-derivative (PID) controller in brewing to calculating robotic kinematic algorithms to ensure fluid movements of a robot arm. NEXCOM's 64-bit EtherCAT Master controllers can also benefit multifunctional machines and production lines by performing real-time imaging processing. As industrial automation and control systems are growing more versatile, the 64-bit NET series can empower these systems to conduct automated optical inspection in production lines, provide vision-based positioning for CNC machines, and offer camera-assisted guidance for robot arms.
The 32-bit NEXCOM EtherCAT Master controllers are also available for general-purpose motion control applications. Both 32-verison and 64-bit version of NET series feature high compatibility with third-party EtherCAT slave devices to facilitate system configuration and come with the NexECM programming tool to accelerate time to market for machine builders.
Main Features
64-bit Windows Embedded Standard 7
64-bit extension of RTX64
64-bit EtherCAT Master stack
Scalable performance with NEXCOM EtherCAT Master controllers
NexECM programming tool supporting C/C++ and built-in APIs
Ordering Information
EtherCAT Master Controller
64-bit Support for
Real-Time Deterministic Control
& Machine Vision Application
32-bit Support for
General-Purpose Motion Control Applications
NET101-ECM powered by
Intel® Atom™ processor E3826
(P/N: A0J10010101X0)

(P/N: 88J10010102X0)

(P/N: 88J10010101X0)

NET200-ECM powered by
Intel® Celeron® processor J1900
(P/N: A0J10020003X0)

(P/N: 88J10020002X0)

(P/N: 88J10020001X0)

NET300-ECM powered by
Intel® Core™ i7-6700TE processor
(P/N: A0J10030001X0)

(P/N: 88J10030002X0)

(P/N: 88J10030001X0)

NET3500-ECM powered by
Intel® Core™ i5-520M processor
(P/N: A0J10350001X0)

(P/N: 88J10350002X0)

(P/N: 88J10350001X0)

NET3600E-ECM powered by
Intel® Core™ i5-3610ME processor
(P/N: A0J10360005X0)

(P/N: 88J10360003X0)

(P/N: 88J10360002X0)