At 2017 IFSEC, NEXCOM's 3D camera and panoramic camera received great interest and strong commendation in providing highly versatile and advanced digital technology practical for a variety of vertical industries.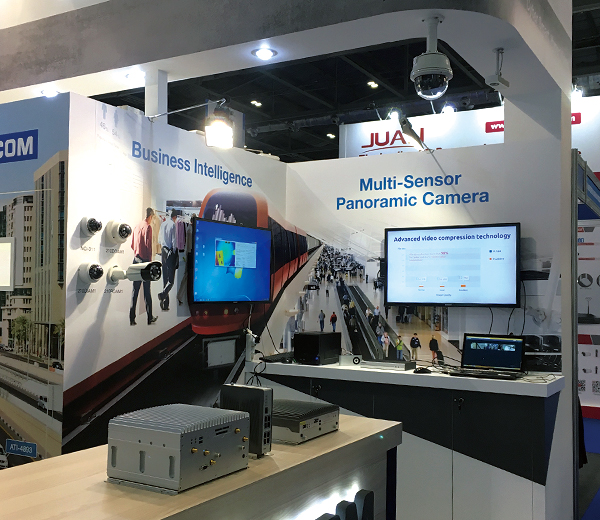 NEXCOM garnered a great deal of attention as one of the few manufacturers to offer 3D camera technology at the exhibition. 3D cameras can be employed as key sensors for a multitude of applications including logistics operations, retail, transportation, and more for gathering big data.To capitalize on the compact design, ability to collect in-depth details under various lighting conditions, and easy installation in any space-constraining environment of its 3D ToF Camera, BIC-251, NEXCOM took the unusual approach of applying the technology to business intelligence. With the addition of its people counting capability, BIC-251 was well commended as a valuable and adaptable tool in acquiring precise data, most notably, in retail.
NEXCOM's 180-degrees multisensor panoramic camera, NCp-501/NCp-201, was also well received at IFSEC. panoramic cameras can be ideal apparatuses for monitoring locations which require multiple points of observation, minimal blind spots and detailed data acquisition. NEXCOM had stood out amongst its competitors by offering 20MP sensors which were of one of the highest standards within the exhibition. It also offered basic market standard 8MP sensors to serve different market demands. Equipped with 4 camera sensors, SMART IR with SR LED, precise image capturing up to 30m in distance under any level of illumination, and single IP output for easy integration with VMS, NEXCOM's panoramic camera, NCp-501/NCp-201, earned the recognition as a capable security surveillance tool for managing any large venues.
For more information on NEXCOM's 3D camera and panoramic camera, please contact NEXCOM's sales representatives.