NEXCOM has released two compact yet powerful 1080P media players NDiS B323 and B324 to help budget users effectively communicate with customers. The NDiS B323 and B324 feature superb graphics power, internet connectivity, and low power consumption. Combining the compact fanless design, the NDiS B323 and B324 deliver high level of reliability required for long term even non-stop operation and are ideal for use in flight information display, in-store promotions, and other digital signage applications.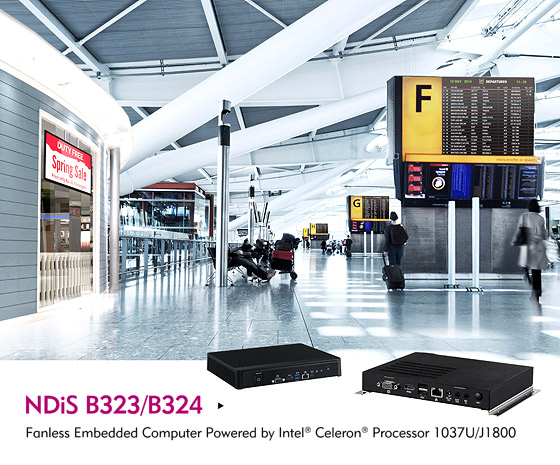 The 1080P media player NDiS B323 is based on Intel® Celeron® processor 1037U and paired with NVIDIA® GeForce® 705M GPU. The NDiS B323 can address every graphics processing requirement from handling 2D and 3D graphics, decoding Full HD videos, to driving two independent displays. With a discrete graphics accelerator, the NDiS B323 can bring a variety of multimedia contents to life while providing sufficient system headroom to run background applications. The NDiS B324 based on Intel® Celeron® processor J1800, on the other hand, is a low power model featuring low thermal design to provide higher energy efficiency.
Both 1080P media players are capable of handling real-time data feed and remote content management with internet connection. The NDiS B323 and B324 have one LAN port and one mini-PCIe slot for 3.5G or Wi-Fi expansion. USB 3.0 ports are also available to offer high speed connection to peripherals.
The low power NDiS B323 and B324 are fanless and compact in size. The design helps reduce dust accumulation, increase system reliability, and lower maintenance effort after installation.
Main Features
NDiS B323

NDiS B324

Processor

Intel® Celeron® processor 1037U

Intel® Celeron® processor J1800

Graphics

Intel® HD Graphics
NVIDIA® GeForce® 705M GPU

Intel® HD Graphics

Display output

HDMI, VGA

HDMI, VGA

Connectivity

1x GbE LAN

1x GbE LAN

1x mini-PCIe for WLAN
expansion (full size)

1x mini-PCIe for WLAN
expansion (half size)

Mechanical design

Fanless and compact design

Fanless and compact design
Ordering Information
NDiS B323 (P/N: 10W00B32300X0)
Intel® Celeron® Processor 1037U with NVIDIA 705M GPU
NDiS B324 (P/N: TBD)
Intel® Celeron® Processor J1800 2.41GHz