Greater ideals need stronger wings to be off grounds for accelerating into farther destinations. NEXCOM has launched new public transit/public works purposed in-vehicle computer VTC 6220, under the multi-functionality featured category, to provide overall reinforcement, including optional built-in backup batteries, for advanced applications.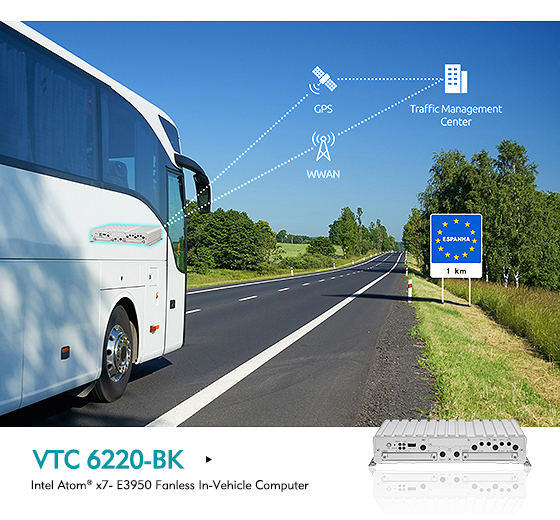 Smart city is now already regarded as an immediate prospect into many of world class cosmopolitans, also foreseeable to be further extended into more surrounding cities as greater connectivity areas under Internet of Things that would be increasingly benefiting to more populations. VTC 6220 is in its inner built with 4 SIM cards in 2 pairs, including phone call (depend on WWAN module) and mobile communication functions, which can provide super convenience for long travel crossing various countries, such as North America and Europe. Also, 3 LAN with optional 2 POE definitely offers more tools for more functionality, for example IP camera.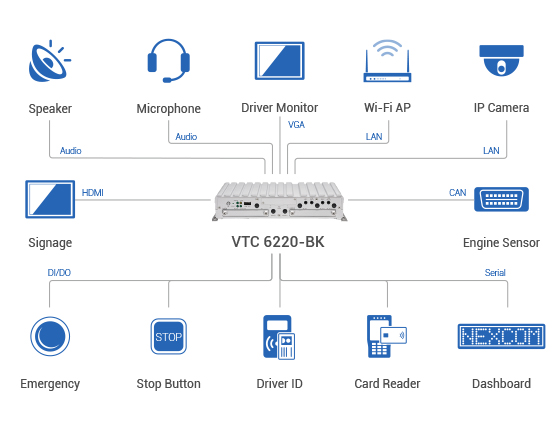 Furthermore, with 2 SSD storages, VTC 6220 can support multi-functionality through its rich I/O interfaces by connections with various devices, such as 3 displays providing infotainment, ticketing and passenger information to be in single host while more is recommended as engine sensors, PA system, driver monitor and more in simultaneous operation. NEXCOM's unique ultraONE+ port is particularly oriented to superior UX with single I/O port for omni-transmission as audio, video, USB and powerline.
The built-in style backup battery offering buffer time for continuing and independent power supply can reduce substantial lost in case of emergency. The environment temperature resistant under its rugged shell is enhanced as wider as -40°C~70°C (≈ 103°F~157°F) if without optional built-in battery while as high as 60°C (≈ 139°F) is still achieved even with backup battery installed, which also once again demonstrates how NEXCOM has never given up pursuing perfect design to reward our users surprising convenience, particularly when the working environment or project/plan is unexpectedly changing, and brings our user ease during the travel through areas of various weather environments.
As to the software support, transportation computer VTC 6220 is all pre-installed with Linux and Window utility for the users to freely further develop of personalized application software.
VTC 6220, driven through Intel Atom® processor Apollo Lake E3950, 1.6 GHz, is designed with comprehensive higher specifications for our users to achieve more possibilities in devising of their mobile telematics system, in addition to its previous version for economical solutions in equivalent to the demands.
Specifications by Request
Built-in style backup battery
LVDS/ultraONE+ (and with VGA+HDMI as default)
POE
Please Click Here VTC 6220 for more Product Information and Details Specifications.
Main Features
Intel Atom® processor Apollo Lake E3950, 1.6 GHz
4 x SIM card support (default type is 3 x external & 1 x internal)
Removable 2 SSD storages
Built-in style backup batteries (by request)
Wide temperature -40°C~70°C (≈ 103°F~157°F)
U-blox M8N GPS module, optional dead reckoning support
Built-in CAN 2.0B optional SAE J1708/SAE J1939 module
Wake on RTC/SMS via WWAN module
Compliant with MIL-STD-810G
3 x mini-PCIe socket + 1 x M.2 slot expansion
Ordering Information
VTC 6220-BK (P/N: 10V00622000X0)
Intel Atom® processor Apollo Lake E3950 1.6GHz with 4GB DDR3L SO-DIMM, u-blox M8N GPS module, VGA/HDMI output, 3 x LAN, 2 x RS232 (full) & 1 x RS-422/485, 1 x CAN 2.0B, 4 x DI & 4 x DO, 1 x USB 2.0 & 2 x USB 3.0, 2 x Line-out/Mic-in