NEXCOM never stops its steps forwarding into further future whenever it is possible. As future-proofed Intel® OPS+ has been launched, NEXCOM is now providing NDiS M537 (OPS Plus), a new embedded media player powered by this 7th/6th Gen. Intel® Core™ Processor, for you ahead of the time realizing better user's experiences that you could not provide to the end users who could be potentially benefited by your unique market insight before.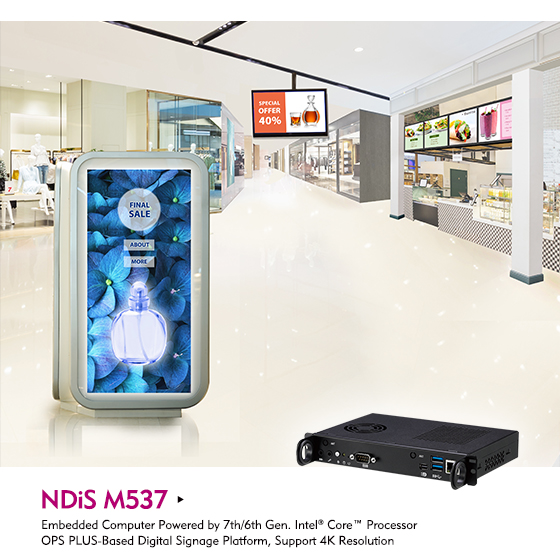 NDiS M537 (OPS Plus) is featured of high flexibility for our users to tailor their own marketing tools based on their unique product design with appropriate media player's performances, as its CPU can be easily replaced by its movable installation style, in response to the flexibility-emphasized Intel® OPS+ that supports multiple generations of designs and services. By such multiplier effect of flexibility, our users can realize their optimal medial player specifications under their pricing strategies.
With Open Pluggable Specification, NDiS M537 also supports 4K resolutions, possibly outputted into 3 independent displays allowing the end users to extend the display as they like. With its pluggable M.2 storage, NDiS M537 in high scalability can be effortlessly in functional expansion on its module, by request, while M.2 Wi-Fi is also not in absence.
NEXCOM has been among the early players since the commercialized intelligent kiosk and digital signage were emerging into the markets, also a long-term Intel's partner. Through years of experiences, our rejection rate has achieved an outstanding result to be below 2%. Also, the OPS player NDiS M537 shows a further breakthrough from NEXCOM advancing of thermal design to reward our users of higher performances from the new generation of CPU but keep the same heat dissipation level up to around 45°C (113°F) as before. NEXCOM is always pursuing better solutions while continuing product upgrades can be always anticipated even as delicate as many of nuances.
NEXCOM's Open Pluggable Specification series is particularly designed for plug-and-play intelligent kiosk and digital signage that can be quickly installed, especially if a considerable quantity in a short time as necessary from an angle of marketing strategies. With further system integration, the applications are recommended to be extended into such as interactive digital whiteboard, bulletin board, passenger information system, floor guides, digital menu board or for chain store such as gyms if with touch screen that the advertisement or store messages in clips can be instantly on-line broadcasted/shared into all branches through clicks from the headquarters so that the end-consumers can select their favorite options on updated display content at any time.
Please Click Here for more Product Information and Detailed Specifications.
Main Features
7th/6th generation Intel® Core™ processor
Intel® integrated HD 630 graphic engine
Support 3 independent 4K2K video out
Dual DDR4 SO-DIMM support
Support Wi-Fi module
DirectX® 12 support
Ordering Information
NDiS M537 (P/N: 10W00M53700X0)
7th/6th generation Intel® Core™ LGA1151 type processor OPS PLUS, Intel® Q170 chipset