Available in 15.6, 18.5, and 21.5 inches, NEXCOM's industrial touch monitors feature widescreen and 10-point multi-touch for better operational awareness. The widescreen IPPD series provides informative and clearer HD content, making data feeds easier to read and understand. The 10-point multi-touch projected capacitive touchscreen (P-Cap) feature lowers risks of operating errors, accidental touches and machine starts.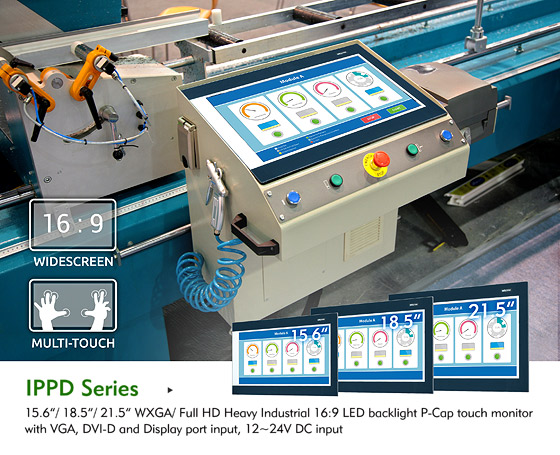 With industrial EMC standard certifications, including EN61000-6-1, EN61000-6-2, EN61000-6-3, and EN61000-6-4, all these industrial touch monitors are intact from electrostatics and electric surges up to ±6kV for contact discharge, ±8kV (ESD) for air discharge, ±2.2kV (EFT), and ±1kV (Surge). In addition, with panel mount enclosure design, the IPPD series not only easily fits into factories with a small footprint but also avoids dust accumulation, which simplifies installation and maintenance.
Last but not least, equipped with lock connectors, the industrial monitors ensure uninterrupted connectivity from vibrations and shocks. Also, LED power indicator and multi-language OSD support simplify the setup and troubleshooting process. By supporting triple inputs from VGA, DVI-D, and DisplayPort, the IPPD series enhances flexibility for installation and integration.
Main Features
IP66 front panel and metal housing with robust aluminum front zero bezel for harsh environment
10 points P-Cap multi-touch
3 display input interface: VGA/DVI-D/DisplayPort
OSD multi-language function
All connectors with lock
Mounting support: panel/wall/stand/VESA 100mm x 100mm
Wide range typical operation DC power input from 12V to 24V DC
Ordering Information
Barebone
IPPD 1600P (P/N: 10II1600P00X0)
15.6" WXGA Heavy Industrial 16:9 LED backlight P-Cap touch monitor with VGA, DVI-D and Display port input, 12~24V DC input
IPPD 1800P (P/N: 10II1800P00X0)
18.5" WXGA Heavy Industrial 16:9 LED backlight P-Cap touch monitor with VGA, DVI-D and Display port input, 12~24V DC input
IPPD 2100P (P/N: 10II2100P00X0)
21.5" Full HD Heavy Industrial 16:9 LED backlight P-Cap touch monitor with VGA, DVI-D and Display port input, 12~24V DC input
Option
12V, 60W AC/DC power adapter w/o power cord (P/N: 7400060019X00)
1.8m DVI-D male to DVI-D male cable (P/N: 60233DVI28X00)
1.8m Display port Cable (P/N: 6030000122X00)