You've put hard-earned and precious capital toward purchasing vehicular transport, but you're concerned about ensuring your new vehicles' safety and security. How do you know that your drivers are trustworthy and carefully operating your vehicles? What do you have in place to document any accidents? NEXCOM introduces the fundamental solution to these concerns with the nROK 6222/VTC 6222, a rugged mobile computer specifically designed to connect with IP surveillance cameras for monitoring purposes. It also assists with centralized fleet management via cloud, GPS, and Wi-Fi.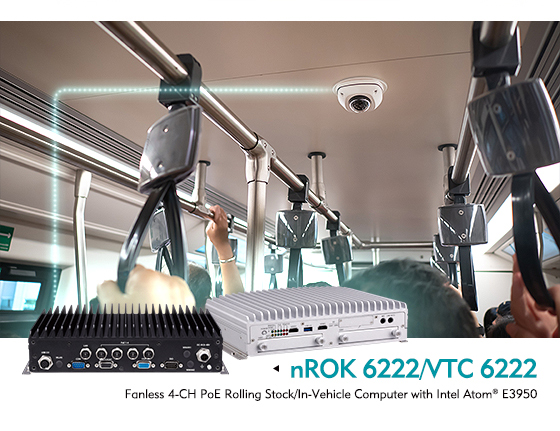 View information quickly and efficiently
Supported by an Intel Atom® E3950 processor, the nROK 6222/VTC 6222 is a compact, fanless computer that provides hardware connectivity with its four 802.3af/at, 60W PoE ports (M12 X-coded in nROK 6222 models), which easily carry power and data for devices such as surveillance cameras. The embedded VMS software assists with both video surveillance and fleet management, while the built-in CAN bus 2.0B connects directly with vehicle control systems. Link flat-panel displays to the nROK 6222/VTC 6222 via the one VGA and two HDMI ports so that drivers can easily monitor both the front and back of vehicles, while passengers on rolling stock can view travel related information.
Send information for better decision-making
Not only does the nROK 6222/VTC 6222 safeguard the inner workings of vehicles, it also links effortlessly with other systems to create a total fleet management system. Customize one of three mini-PCIe expansion slots as a WWAN module that fits two SIM cards, so that its redundancy allows you to switch to another network when one loses signal or when crossing borders. Transfer data to both mobile and central management to perform remote vehicle diagnostics and optimize dispatch schedules for safe and efficient driving.
Customize your computer and make it your own
The nROK 6222/VTC 6222 mobile computing solution provides ample storage with two 2.5" SATA 3.0 external SSD bays (supporting up to 15 mm) for video data, in addition to a USB port and external SD memory card slot for convenience in exporting and backing up data, as well as importing configurations. It also includes an internal USB DOM (disk on module) to run your OS. Add extra peripherals in addition to those already built-in, such as USB, serial, and other ports. Moreover, the computer can achieve power isolation and is protected against sudden power surges through an attachable VTK 6222-PK power isolation kit. The nROK 6222 is also EN50155 compliant (tested for temperature, humidity, shock, vibration, EMC, and other environmental parameters) and the VTC 6222 E13 certified.
Main Features
Model Name

nROK 6222-AC4S

VTC 6222-C4S

Intel Atom® x7-E3950 processor, up to 2.0GHz

Memory

4GB DDR3L 1866 SO-DIMM (default) up to 8GB

Storage

2 x 2.5" SATA 3.0 SSD
(removable, 15mm)

Second Storage

1 x SD (external accessible), 1 x Internal USB DOM

1 x Intel® 10/100/1000 (M12)

4 x M12 (802.3af/at). Total 60W

4 x (802.3af/at). Total 60W

2 x (PCIe 2.0 + USB 2.0).
1 x (USB 2.0), BOM optional M.2 Key B

BOM optional 1 x M.2, Key B (USB 2.0+USB 3.0)

DC 24/36V (w/o isolation)
DC 24/110V (w/ isolation,
external power kit, optional)
Ordering Information
nROK 6222-AC4S (P/N: 10A00622200X0)
Intel Atom® processor E3950 up to 2.0GHz CPU, 4GB DDR3L SO-DIMM, DC Input 24/36 VDC w/o isolation, 1 x VGA/2 x HDMI, 1 x LAN, 4 x PoE, 2 x RS-232, 1 x RS-422/485, 8 x GPIO, 1 x USB 3.0, 2 x USB 2.0
VTC 6222-C4S (P/N: 10V00622200X0)
Intel Atom® processor E3950 up to 2.0GHz CPU, 4GB DDR3L SO-DIMM, DC Input 9~48 VDC, 1 x VGA/2 x HDMI, 1 x LAN, 4 x PoE, 2 x RS-232, 1 x RS-422/485, 8 x GPIO, 1 x USB 3.0, 2 x USB 2.0