NEXCOM's IWF 3432XR industrial Wi-Fi is armed with 802.11ac and 3 radios to support the mass proliferation of mobile devices and BYOD. Providing high-density connection of up to 384 concurrent devices and wireless speed of 1.3Gbps, the IWF 3432XR industrial Wi-Fi can meet the surging demand for increased mobile device access in both enterprise and industrial networks. Furthermore, to provide reliability to and simplify management of large industrial wireless networks, the IWF 3432XR supports centralized mesh management, wide operating temperature of -40 to 80 degrees Celsius, dual WAN connection and dual redundant power.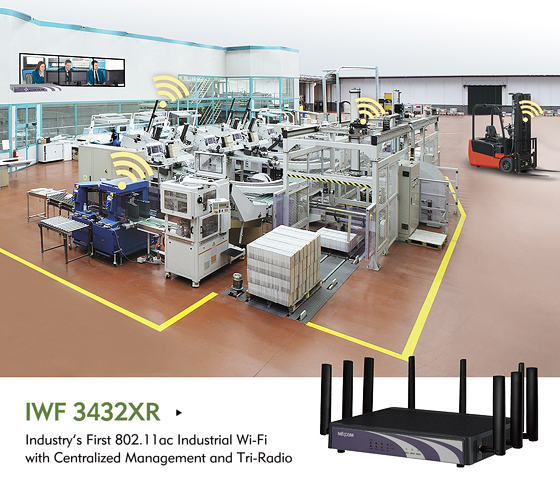 NEXCOM's Assistant Vice President of Product Development, Industrial Computing Solutions Business Unit, YC Cheng, states, "The rapid proliferation of mobile devices and BYOD has led to demands for even higher density Wi-Fi. Both enterprise and industrial networks require support for massive numbers of concurrent devices over a wide coverage area to improve mobility and productivity. To fulfill these applications, NEXCOM has released industrial grade 802.11ac Wi-Fi, IWF 3432XR, with 3 high power radio modules and 3x3 MIMO to accommodate the increased growth of wireless devices and data traffic."
As a member of NEXCOM's IWS family (Industrial Wireless Solutions), the IWF 3432XR features an array of industrial grade design and function. It can be centrally managed by NEXCOM IWF 8405 WLAN controller, allowing users to setup and manage new and existing mesh networks with ease and without downtime. It offers wide operating temperature range of -40 to 80 degrees Celsius to ensure reliable operation in harsh industrial environments such as wireless backbones in factory automation and 3G/LTE offload networks.
Furthermore, to provide redundant mechanisms for these critical industrial applications, the IWF 3432XR comes equipped with dual WAN and dual power input of PoE (Power over Ethernet) and 12Vdc to 48Vdc, to offer automatic failover and ensure continuous operation.
Main Features
Multiple function: AP/Repeater/WDS
Central managed with access controller (IWF 8405 and IWF 3320C)
Triple radios and compliant with 2x IEEE 802.11ac; 1x IEEE 802.11a/b/g/n 3x3 MIMO
IEEE 802.3at Power over Ethernet; dual power redundancy (DC and PoE)
2x Gigabit Ethernet WAN ports; 4x Gigabit Ethernet LAN ports
Operating temperature range from -40°C to 80°C
Ordering Information
IWF 3432XR (P/N : TBD)