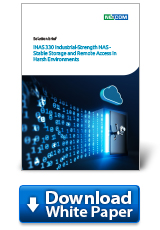 The Trend
Safe storage and data retention are critical in the digital era. Every day, more than 4.88 billion internet users generate well over 2.5 quintillion bytes of data, serving the needs of both large corporations and individuals. With such a massive quantity of data, how do you safely store it, ensure it is readily accessible to those that need it, and protect it from being stolen by outsiders? Now add the rise and spread of the internet and the ability to access data from anywhere. Suddenly, preserving and securing data from unauthorized access becomes even more challenging. That is where Network-Attached Storage (NAS) comes in and why it plays a crucial role in modern data storage.
NAS centralizes data. For large enterprises, the centralized storage of company data allows employees fine-grained access and provides seamless data exchange between branches, divisions, and locations, for unified management and real-time data sharing. For Individuals and small studios, a NAS can store essential data and allow remote access via the internet.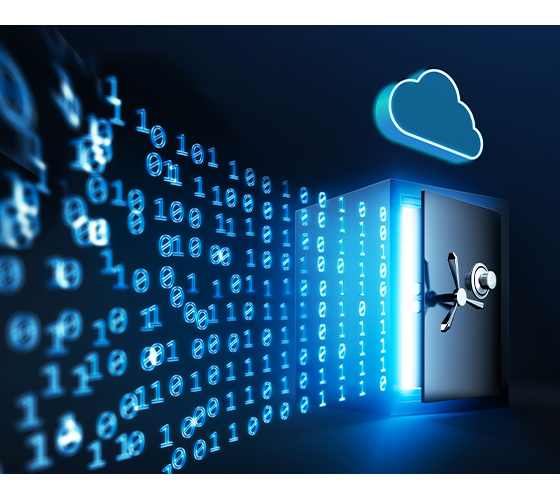 NAS protects data. In addition to local storage and access, a NAS has built-in mechanisms to protect data even if a hard drive fails or some other mechanical failure occurs. A RAID, for example, protects against data damage when storage media fails. There are also other additional authentication and authorization mechanisms to control data access and avoid data leaks.
NAS backs up everything. With good planning, you can use multiple NAS to backup other local storage devices to further reduce the risk of data damage or loss and maintain the accuracy and availability of data.
NAS supports remote work. With the uptick in work-from-home during COVID-19, remote access to data over the internet is critical. A NAS that allows secure remote access is needed so that everyone can work at home while having full access to the data they need to get their work done.
The Challenge
Most NAS is designed for indoor use, usually with ample air-conditioning in large enterprises or homes, but rarely anywhere but indoors. However, the utility of NAS makes it desirable in places not ideally suited to them, places with very high or low temperatures, high humidity, and lots of dust. Some examples include outdoor substations, oil drilling platforms, transportation equipment, outdoor small computer rooms, and industrial environments. An average NAS designed for indoor use just cannot be used in these situations.
One more challenge is to provide access management at the endpoints. Physical access to NAS in remote areas is often difficult to impossible. So, one of the critical requirements is user-friendly and functional software to enable remote management, real-time statistics gathering, and a reliable notification system.
NEXCOM Solution
The NEXCOM iNAS 330, a NAS device for industrial environments, is the answer to these challenges. It can operate from -40 to 70°C (-40 to 158°F) when using SSDs, or -25 to 55°C (-13 to 131°F) when using HDDs. The primary limitation on operating temperature is a physical limitation of SSDs and HDDs rather than the NAS device. When disk manufacturers launch SSD or HDD products that can support higher or lower operating temperatures, the operating temperature of the iNAS 330 can accommodate those.
The iNAS 330 has a Marvell™ ARMADA® dual-core Cortex®-A9 ARM® processor with high performance and low power consumption. It supports up to three 2.5" drives and uses IP67-rated M12 waterproof connectors for Ethernet connections, including two 1GbE LAN ports with redundancy and one 1GbE LAN management port. The iNAS 330 is a IEEE 802.3af/at compliant PoE PD, so it is easy to install in any place without an AC or DC power source. It also supports power redundancy so that it can provide higher reliability and stability. Fanless and IP54 metal chassis design helps the iNAS 330 operate in harsh environments.
Multiple LEDs on the front panel indicate the current system status, including power, system, PoE, temperature, HDD, and LAN. It is easier for the user to know if there is something wrong without logging into the system.
Atlas OS™
NEXCOM's proprietary embedded Atlas OS™ is available for the iNAS 330 and provides a visual user interface (UI) to configure the network, create a RAID, and share specific folders with certain users through permission settings. Instead of requiring a dedicated software application, the Atlas OS™ provides a web desktop, a web-based cross-browser HTML5- and CSS3-powered UI, with a centralized management panel and dual-desktop system for easier and faster switching between different windows and tasks. The web desktop is a single-page application that dynamically updates page data from the webserver for smoother operations and real-time information.
Atlas OS™ for iNAS 330 focuses on two major features: networking and storage. Network stability and bandwidth efficiency are critical issues in harsh environments. The iNAS 330 has two LAN ports, allowing the administrator to combine two LAN interfaces using link aggregation technology. If one link fails, the traffic will failover to maintain the network connection. Link aggregation also increases the traffic throughput by up to double the performance.

Figure 1: Link Aggregation on iNAS 330
Regarding data storage reliability, Atlas OS™ uses NEXCOM RAID Damage Detection and Protection Technology to enhance protection against disk failures. The iNAS 330 supports up to three disks in a RAID setup that is configurable through the graphical UI. By default, the system will automatically determine the optimal setting based on the number of disks selected by the user. Users can still manually configure the RAID level and file system setup. For more details, please refer to the user manual.
Using RAID 5 with three disks is recommended because it has a higher capacity than RAID 1 and better fault tolerance than JBOD. If a disk gets damaged, user can recover the data by replacing the damaged disk with a new one.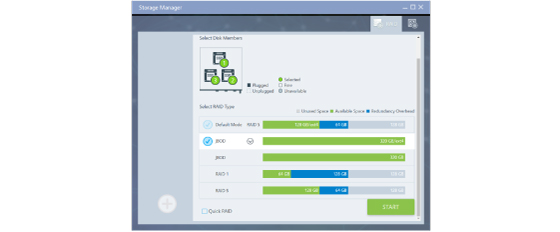 Figure 2: RAID Setup via Web UI
Real-time information delivery is a highlight of the Atlas OS™. There are four thermal sensors in the iNAS 330, one for the CPU and one for each drive (three in total). Atlas OS™ detects the readings from these sensors and displays a graphical representation on the web UI for the administrator. The Web UI also shows system information, including CPU loading, memory usage, network statistics, storage usage, disk drive status, and others. A summary of all information delivered by the Atlas OS™ to administrators provides a real-time overview of the current system status at any time of the day.
The Atlas™ OS provides multiple methods for monitoring and managing the iNAS 330, including SNMP v2/v3, RESTful API, and email notifications. Email notification settings are configurable based on user needs, and if a serious event occurs, the system uses SMTP to send an email alert to notify the administrator. As long as the administrator has internet access, they can log into their account from a web browser on any gadget, including their cellphone, and take preventative action.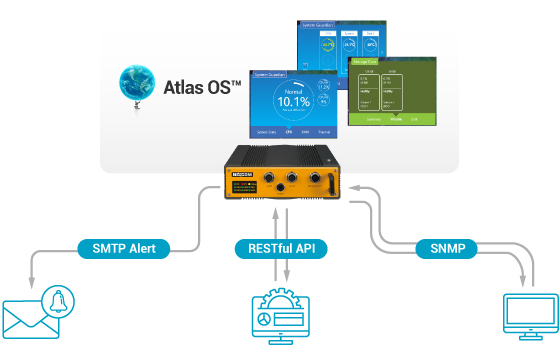 Figure 3: Real-Time Information and Notification Mechanism
Conclusion
In the age of COVID-19, where movement is often restricted, more companies are allowing people to work from home, and more people are choosing to do so. NEXCOM's iNAS 330 enables businesses to continue with work as usual while keeping data safe and allowing remote access. The iNAS 330 with Atlas OS™ is the complete ready-to-go solution for storage deployments in both general indoor environments and harsh outdoor environments.
iNAS 330

Ruggedized network-attached storage with Marvell ARMADA Cortex-A9 processor

Marvell™ Armada® Cortex®-A9 dual-core 1GHz CPU
3 x 2.5" drive bays
2 x GbE LAN ports (M12 connector, redundancy, PoE PD)
1 x GbE management port (M12 connector)

Compliance:

EN50155 (railway applications)
IEC61373 (vibrations & shocks)
EN60950 and EN61000 (immunity, emission)
EN60068-2-30/IEC68-2-30 (environmental testing)