In response to growing demands from the security market, NEXCOM has launched its first intelligent in-vehicle security surveillance system, NViS 2140H. The NViS 2140H, a hybrid DVR solution, incorporates both IP and analog cameras in one system, which gives great integration flexibility.
The NViS 2140H hybrid DVR is equipped with an Intel® Atom™ D525 Dual Core processor in compact design for in-vehicle applications. Incorporating an all-in-one embedded server board, NViS provides high quality digital recording on 4-channel D1 resolution, real-time display (NTSC 720X480, PAL 720/576) and supports a wide range of megapixel IP cameras. The storage capacity can be up to 1.5T in a 2.5 inches HDD. Equipped with SIM card and mini PCIe socket, NViS 1240H supports 3G network for instant data transfer, Wi-Fi upload, and two-way voice communication, making it an ideal solution for security surveillance applications in coaches, police cars, sightseeing or school buses.
NViS 2140H hybrid NVR not only incorporates DVR and NVR system within one system, but it also provides intelligent IVA function. The hardware specifications of the NViS 2140H feature three Intel® Gigabit LAN ports, four RS-232 COM ports, two RS232/422/485 COM ports, four USB2.0, one VGA port, one GPIO port, and one audio jack (speak out).
An optional power ignition PSU is also available to support in-vehicle applications. The power ignition PSU ranges from 9Vdc to 36Vdc to fit for various vehicle batteries. The switchable power on/off setting ensures NViS 1240H can function well under power ignition or sudden power loss.
The SATA HDD/SSD or front accessible CF card is also available for extended storage capacity. The optional anti-vibration kit can give NViS 2140H reliable performance and HDD protection while driving.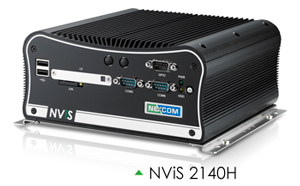 Main Features
Onboard Intel® Atom™ D525 Dual Core (1.8GHz, 1M Cache) processor
Intel® ICH8M PCH
4-channel Full-D1 display/recording analog camera (video resolution up to 720x 480HD/ 720x 576HD); 8-channel Full-D1 display/recording is available upon request (optional)
1 x DDR3 SO-DIMM socket, Max. DDR3 800 2G Memory
3 x Intel® Gigabit LAN ports
1 x mini-PCIe socket
4 x RS-232 COM ports, 2x RS232/422/485 COM ports, 4 x USB 2.0
1 x VGA port, 1 x GPIO port, 1 x audio jack (speak out)
1 x 2.5" HDD socket, 1 x external CF socket, 1 x external SIM card holder
9Vdc - 36Vdc input
NViS Hybrid DVR with V1.53 application *
Optional 9Vdc- 36Vdc power ignition module
Optional anti-vibration kit for whole system
* The optional V1.53 application provides real-time display and recording, remote viewer, mobile viewer, and Intelligent video analytic feature.