NEXCOM presents advanced and comprehensive security surveillance products at Secutech 2013. The lineup covers applications from retail shops, enterprises to transportation. Please visit NEXCOM at Secutech 2013 in L837 to experience the big leap in digital security. The show will be taken place at Nangang Exhibition Centre in Taipei, Taiwn, from April 24 to 26, 2013.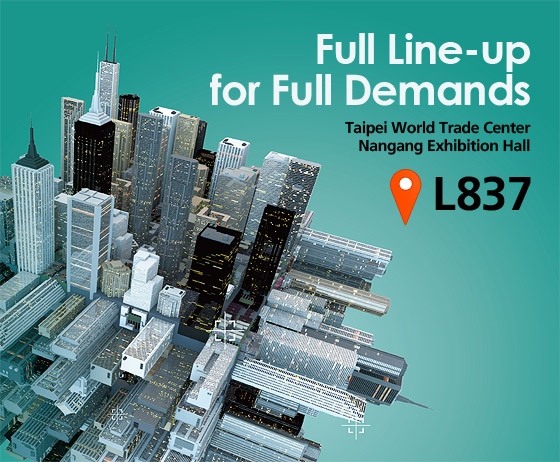 Advanced Security Surveillance System Technologies for Various Environments
Weak/ strong lighting and dynamic subjects often cause dim/overexposed and vague image. NEXCOM develops the right remedy for these problems and introduces a series of new IP cameras. The True WDR IP cameras, like NCm-301, NCi-301, NCo301 NCb-301 and NCr-301, act like the human eyes and present clear images to meet the security surveillance needs in lobby entrances, parking lots, and ATMs. Also, NEXCOM IP Cameras which are equipped with the capabilities of Video Stabilization and video recording at 60 fps can capture stable and smooth video in moving environments or for dynamic subjects.
Besides of super sharp IP cameras, NEXCOM also brings new NVR systems for retail shops, buildings, factories and even in transportation. All NEXCOM NVR systems come with intelligent surveillance software providing various features to facilitate security surveillance. It supports 1080p60 video and can record video in H.264 and M-JPEG formats for high accuracy. Also, it has pre/post-alarm recording feature to preserve complete event details. NMm-104 and NMm-008, equipped with 3G and GPS modules, are mobile NVR designed for in-vehicle surveillance. NMr-016 is one of best security surveillance system for small-and-medium business and retail shops for its compact hardware design and a wide range of I/O for better data transmission and dual display outputs for convenient monitoring. NMe-032 is a high-end 2U chassis network security surveillance which can connect up to 32 IP cameras for large scale security surveillance deployments in metro stations, enterprise buildings, and factories.
Please visit www.nexcom.com for latest information of NEXCOM digital security surveillance.
Event Details
Date: April 24-26, 2013
Venue: Taipei, Taiwan
Exhibition Center: Nangang Exhibition Centre
Booth: L837