NEXCOM's market-oriented NIFE Series PC-based factory automation, NexMotion Series machine automation, a variety of panel PCs, and IWF Series industrial wireless solutions impressed different field professionals at Hannover Messe!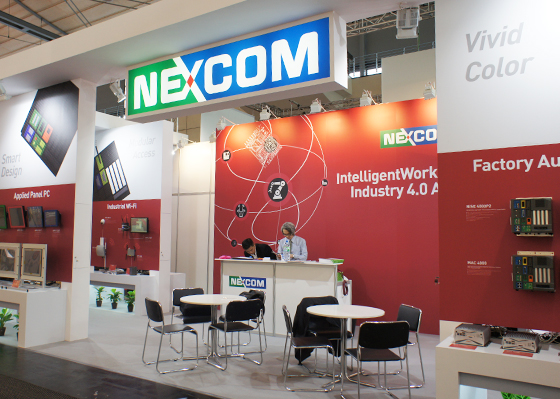 In the factory automation sector, the Fieldbus technologies provided by system integrators are dedicated to a single brand. Combining Hilscher's communication technology, the just debuted NIFE Series can integrate master Fieldbus interfaces in accordance with a customer's existing PLCs. The protocols NIFE series supports include PROFINET, PROFIBUS, DeviceNet, Ethernet/IP and EtherCAT. It solves the common incompatibility issue, and the unprecedented integration nearly meets NEXCOM Impressed Industrial Automation PROs at Hannover Messe 2013 the IPC and PLC integration requirement of nearly 70 percent of users.
On the rise of smart motion, the complexity of automated machineries is further increased when they are integrated with different control stations. NexMotion series motion controllers feature industrial Ethernet, full closed-loop, and multi-axis and multi-tasking. Integrating Googel's motion card and IntervalZero RTX software, this dedicated MA system can process high-precision images, network communications and other application requests to fulfill 100+ applications.
Speaking of panel PCs, NEXCOM's PPC series are designed to meet specific application requirements from light industrial, heavy industrial, Kiosk to multimedia applications. Even though application varies, all NEXCOM PPC series sings the same tune of high reliability through its robust design, which is always the major concern of application users. The Industrial Panel PC won the praise in conquering harsh operating environments.
Though consumer type Wi-Fi routers still dominate the markets, the urging demands in outdoor mobile applications and industrial environment applications are soaring. With rugged enclosure, IWF Series outdoor AP is designed for applications such as surveillance camera, Hot spot, wirlessHART, and WDS. With wide-temperature operating feature, IWF industrial AP raises the interests of the players, such as, in steel manufacturing, refining, and chemical processing fields.