NEXCOM has released the fieldbus concentrator NISE 300 to help build a connected factory to harness the power of big data. The NISE 300 features Intel® Core™ i5-4402E processor and provides high expandability to support multiple fieldbus technologies and internet connectivity. Designed to fit in a 2U rackmount chassis, the NISE 300 is a high computing data server and communication gateway which provides cross–fieldbus communication, makes data-based decisions, and pushes factories down the path towards lean manufacturing.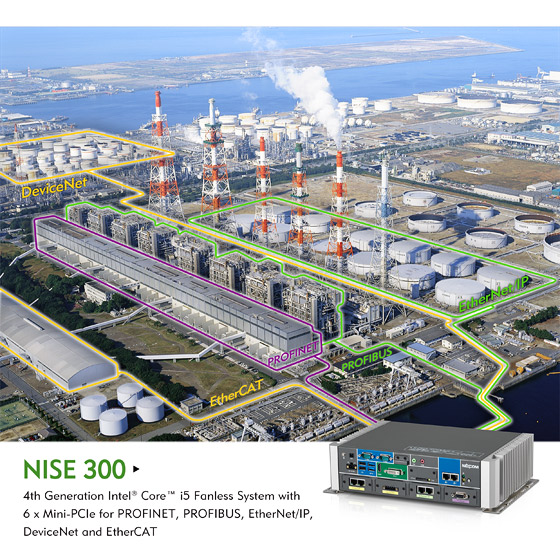 The fieldbus concentrator NISE 300 based on the Intel® Core™ i5-4402E processor is designed to break down the long standing barrier to data sharing. Featuring six mini-PCIe slots, the NISE 300 can be configured to collect data from PLCs, distributed I/Os, and remote I/Os using proprietary protocols including PROFINET and PROFIBUS from Siemens, EtherNet/IP and DeviceNet from Allen-Bradley, and EtherCAT from Beckhoff. The devices and instruments using COM, USB 3.0, and LAN interfaces are also supported by the NISE 300.
Combining the functions of data saver and communication gateway, the NISE 300 allows devices and equipment with different protocols to correspond with each other. The NISE 300 can also be used as a data acquisition server and supports a combination of mSATA, CFast, and SATA for data storage.
To make the most out of the collected data, the NISE 300 has LANs and supports 3G/4G and Wi-Fi expansion to provide two-way communication between field sites and factory control room and enterprise headquarters. Through the internet, the NISE 300 can send the data to the control room, where the data can be analyzed to develop improvement plans that can be sent back and carried out at the field site.
All above features come with flexible configuration and ease of use. The NISE 300 allows users to customize the type and amount of interfaces with mini-PCIe modules. Also, the NISE 300 can be encased in pairs in a 2U 19-inch rackmount chassis with all connectors facing forward for easy installation and maintenance.
NEXCOM Fieldbus Concentrator Solution Package
To demonstrate NISE 300's capability, NEXCOM has installed the OPC Server software on NISE 300 and configured it with VIPA I/O, VIPA PLC, and Hilscher PROFINET, PROFIBUS, and EtherNet/IP modules. The solution provides an open architecture for cross-fieldbus communication between HMI and SCADA systems and is available by request.
Main Features
Onboard Intel® Core™ i5-4402E processor paired with Intel® QM87 chipset
6 x mini-PCIe for PROFINET, PROFIBUS, EtherNet/IP, DeviceNet and EtherCAT
2 x USB 3.0; 2 x USB 2.0, 2 x RS232/ 422/ 485 with Auto Flow
Support 1 x mSATA, 1 x CFast and 2 x 2.5" SATA
User-friendly I/O Design; All I/O Interface at Front
Support Wireless Communication; Optional for Wi-Fi or 3G Modules
Support 9V~30V DC Input; Support ATX Power Mode
Dual Intel® GbE LAN Ports, Support WoL, Teaming & PXE
Ordering Information
NISE 300 System (P/N: 10J00030000X0)
NISE 300 Fieldbus Concentrator Solution Package (By Request)