NEXCOM has released a whole new product line, the HENGE™ industrial firewall series, to help fortify online security for industrial appliances. To optimize operation efficiency, industrial appliances including automation controller, medical equipment, and electronic car charging station used to be standalone but now are going online. To defend against online threats, NEXCOM HENGE™ series arms industrial appliances with endpoint firewall protection and secure VPN connection, enabling users to remotely manage industrial appliances with peace of mind.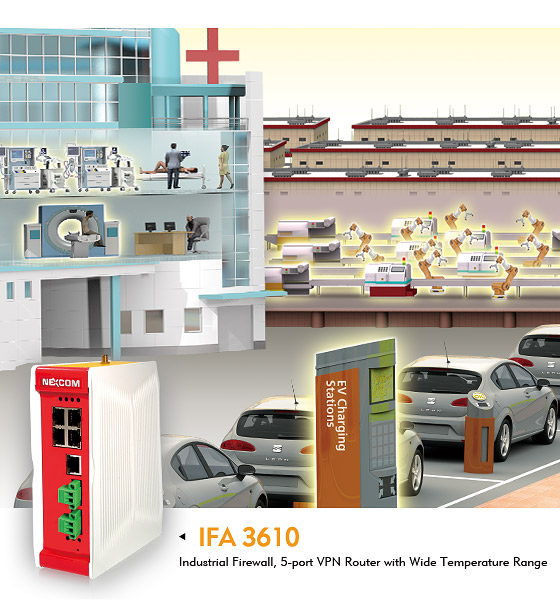 Industrial appliances are special purpose machinery and equipment with a handful of applications. To protect these appliances, the HENGE™ industrial firewall series features advanced firewall architecture and stateful packet inspection to detect and prevent intrusions at the end point.
The HENGE™ series can separate the industrial network from the information network and impose strict censorship to filter out potential threats. For instance, the HENGE™ series can restrict network access to fieldbus data traffic and drop those where most threats are likely to hide. The HENGE™ series can also scan the packet content and monitor the network traffic throughout the data transmission to ensure the connection is valid.
To guard network connection, the HENGE™ industrial firewall series is outfitted with IPSec and SSL VPN functions. The HENGE™ series can create a virtual private tunnel on the public network and encrypt all the data before transmission. By thwarting online eavesdropping and data tampering, the HENGE™ series not only offers secure network access to help users monitor, calibrate, and configure industrial appliances. The HENGE™ series also helps users fulfill regulatory requirements for information security.
Furthermore, the HENGE™ industrial firewall series offers the benefit of unified VPN user management. The HENGE™ series only grants network access to authenticated users to perform authorized actions. In case of employee turnover, users can keep up-to-date authentication and authorization policies in the HENGE™ industrial firewall, instead of changing settings on every industrial appliance.
The HENGE™ series is now available with the 5-port industrial firewall IFA 3610. Dedicated for use in industrial environments, the IFA 3610 supports serial communication as well as digital input and output. It also supports extended temperature range of -20°C~70°C and can be mounted on the din rail and the wall.
Main Features
Stateful packet firewall
Intrusion prevention
SSL VPN secure connection
Support DI/DO and serial communication
Centralized management
Extended temperature range of -20°C ~70°C/-4°F~158°F
Ordering Information
IFA 3610 (P/N: 10IF0361000X0)