NEXCOM's fanless NISE 2400 series is built to propel smart cities forward with high flexibility, environmental durability, and remote manageability. Powered by Intel® Atom™ E3800 product family, the NISE 2400 series delivers flexible choices of computing power, graphics capabilities, and expansions over various smart city applications such as vending kiosks, city surveillance, automatic toll collection services, and electric vehicle (EV) charging stations. Coupled with a free management tool, Xcare™ 3.0, the NISE 2400 series delivers high manageability. Its fanless and rugged designs extend series expand duration of operation in outdoor environments.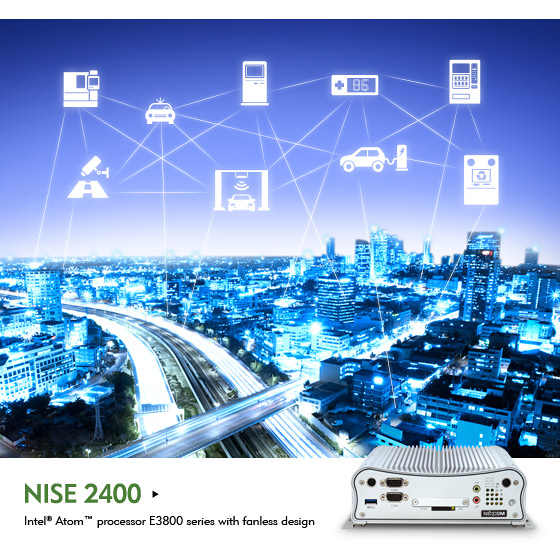 To meet the evolving demands of smart cities including improved safety and enhanced traffic efficiency, the NISE 2400 series includes models with single-/dual-/quad-core Intel® Atom™ processors, Intel® HD Graphics for dual-display support, and multiple OS support including Android 4.4, Windows 7, Windows Embedded Compact 7, Windows 8, Windows Embedded Compact 8, and Linux Kernel 3.8. Local authorities can choose the most suitable NISE 2400 series based on use areas. In addition, the NISE 2400 series not only comes with PCI/PCIe slots, allowing feasible expansions for legacy and new systems, but also supports mini-PCIe sockets for optional Fieldbus interface/LAN/COM communication modules, providing flexible communication support.
In addition to its flexibility, the NISE 2400 series is designed for challenging environments including power surges, dust, and extreme temperatures. Its COM ports have isolation protection to ensure smooth data transmission from interference. Also, the fanless structure and wide-temp design deliver uninterrupted operations and maximized system uptime in outdoor environments.
Aimed to simplify the management process, the fanless NISE 2400 series is equipped with a free management tool, Xcare™ 3.0. The Xcare™ 3.0 brings a unified platform to monitor NISE 2400's temperature, CPU temperature, operating voltage, and HDD health with one single interface. With this remote manageability, city operations can be better tracked while potential system failures can be detected in time.
Main Features
Intel® Atom™ processor E3800 series
Dual independent display from DVI-I and HDMI
2 x GbE LAN ports support WoL, Teaming and PXE
4 x USB 2.0, 1 x USB 3.0
2 x RS232, and 2 x RS232/422/485 with 2.5KV isolation protection
2 x Mini-PCIe socket for optional LTE/3.5G/Wi-Fi/mSATA modules
Extended operating temperature from -20 to 70 degree Celsius
Support 9-30V DC input
Ordering Information
NISE 2400 (P/N: 10J00240000X0)
Dual-core Intel® Atom™ processor E3827, 1.75GHz
NISE 2410 (P/N: 10J00241000X0)
Dual-core Intel® Atom™ processor E3827, 1.75GHz with one PCI expansion slot
NISE 2410E (P/N: 10J00241001X0)
Quad-core Intel® Atom™ processor E3845, 1.91GHz with one PCIe expansion slot
NISE 2420 (P/N: 10J00242000X0)
Quad-core Intel® Atom™ processor E3845, 1.91GHz with two PCI expansion slots
24V 60W AC/DC power adapter w/o power cord (P/N: 7400060024X00)