NEXCOM will be participating in this year's M2M Summit on September 8th and 9th at the Congress Center Düsseldorf in Germany. The summit will be surrounded by the topics of M2M (machine to machine), IoT (Internet of Things) solutions and Industry 4.0. At the two-day conference, NEXCOM will demonstrate state-of-the-art industry firewall solutions, the HENGE™ series, which are ideal endpoint connectivity and security solutions for industrial automation, process control, energy and medical instrument remote maintenance applications.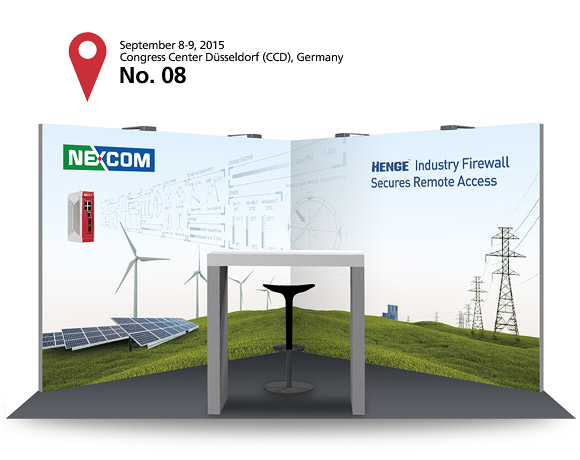 With the rise of Internet of Things (IoT), more and more production facilities and machinery are connected to the internet in order to increase production efficiency. However, there is also an increasing number of cyber threats which could cause loss of critical data, system performance degradation, or even system breakdown. To help construct a secure, reliable network, NEXCOM's HENGE™ industry firewalls offer stateful inspection, detection, and intelligently detain malwares with intrusion detection system (IDS) and intrusion prevention system (IPS) features. In addition, the HENGE™ industry firewalls can be tailored made with encrypted VPN to offer secure remote access to factory networks.
Featuring IDS and IPS, NEXCOM's HENGE™ industry firewalls are able to proactively defend against cyber threats. IDS security feature can inspect IP address, packets, protocol violations, and any unusual network traffic and behaviors. IPS, on the other hand, can actively reject malicious packets and block suspicious IP connections. In addition, IPS can be configured to trigger alarm LEDs and send SMS, email notifications to administrators to take real-time actions before damage worsens.
Come and visit NEXCOM's stand at the 2015 M2M Summit to find out more about NEXCOM's industry firewalls.
Event Details
Date: September 8-9, 2015
Venue: Congress Center Düsseldorf (CCD), Germany
Stand Location: No. 08