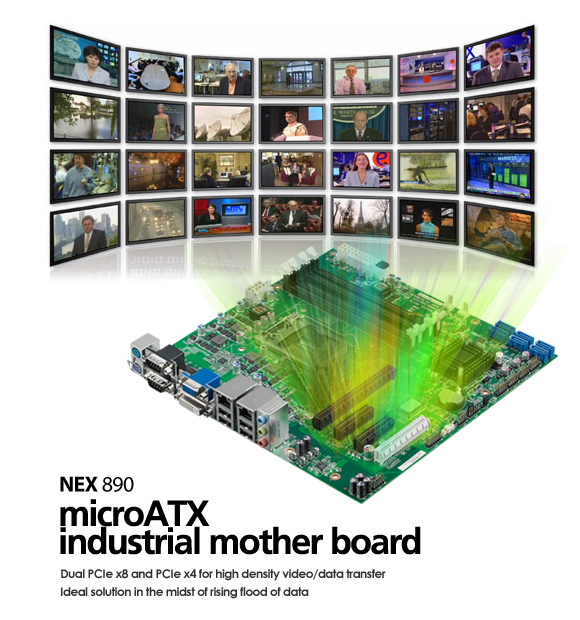 With NEX 890 microATX industrial mother board, embedded computers will enjoy fast data throughput for high quality and high resolution video and data. NEXCOM NEX 890 supports 2nd generation Intel® Core™ i3/i5/i7 processors with C206 chipset, up to 32GB DDR3 SDRAM, and quad PCIe x4 expansion cards. Not only can the industrial mother board deliver outstanding computing performance. It can also swiftly transfer heavy data volume of high quality 3D graphics, video, mass data, and on-demand multimedia. Along with SATA ports and Intel® GbE LAN ports, NEX 890 is intended for data-intensive applications including network storage, video surveillance, digital signage, and media streaming services.
NEX 890 supports 2nd generation Intel® Core™ i3/i5/i7 processors with C206 chipset. With a processor clocking at up to 3.4 GHz and integrated Intel® HD Graphics 2000, the microATX industrial mother board demonstrates exceptional capabilities of computing and graphcis. With four DDR3 DIMM memory slots that enable 32GB DDR3 SDRAM memory capacity, NEX 890 can help users build high performanace embedded computers for various vertical markets.
More importantly, NEX 890 has one PCIe x16, one PCIe x8, and two PCIe x4 slots and can be configured with two PCIe x8 and two PCIe x4 or quad PCIe x4 expansion cards. This feature will enable embedded computers to keep pace with requirements for high volume and rapid data transmission as PCIe x4 is becoming a common interface of networking cards and video capture cards.
Also onboard are two SATA 3.0 6Gb/s ports and four SATA 2.0 3Gb/s ports. NEX 890 can shorten response time by supporting faster data transfer. The industrial mother board can also protect data against hard drive failure with RAID 0/1/5/10 and Intel® Matrix Storage technology.
Moreover, NEX 890 has two Intel® 10/100/1000 Mbps LAN ports and supports Intel® Active Management Technology 7.0 (Intel® AMT 7.0). The remote managment function allows IT professionals to query, restore, upgrade, and protect embedded computers without onsite visits. Other interface options include one VGA, one DVI, two RS232, and ten USB 2.0 ports. Users will fnd NEX 890 an ideal solution in the midst of rising flood of data.
Main Feature
Support dual PCIe x8 and dual PCIe x4 signals
Support 2nd generation Intel® Core™ i3/i5/i7 processors
Intel® C206 PCH
4 x DDR3 DIMM Socket, support ECC DDR3 1066/1333MHz SDRAM up to 32 GB
VGA and DVI dual displays and 24-bit LVDS
Support Intel® AMT 7.0 for remote central management
2x Intel® Gigabit Ethernet support boot from LAN (PXE)
Support 2x SATA 3.0, 4x SATA 2.0, 2x RS232, 10x USB 2.0
Ordering Information
NEX 890 (P/N : 10G00089000X0)
Micro ATX, LGA1155, 2nd generation Intel® Core™ i3/i5/i7 processors, C206, DDR3 DIMM x4, VGA, DVI-D, 2x GbE, PCIe X8/PCIe X4/2x PCIe X1, 2x RS232