NEXCOM will showcase its latest innovations in smart mobile technology at the Intertraffic Exhibition from March 25th to 28th in Amsterdam, Netherlands. The booth 10.500 is located at Hall 10. NEXOCM's demonstration will cover public transportation and special purpose vehicle solutions. The highlights of public transportation solution include passenger infotainment and intelligent digital surveillance. The demonstration of special purpose vehicle solution will focus on a variety of logistic management applications in harbor operation.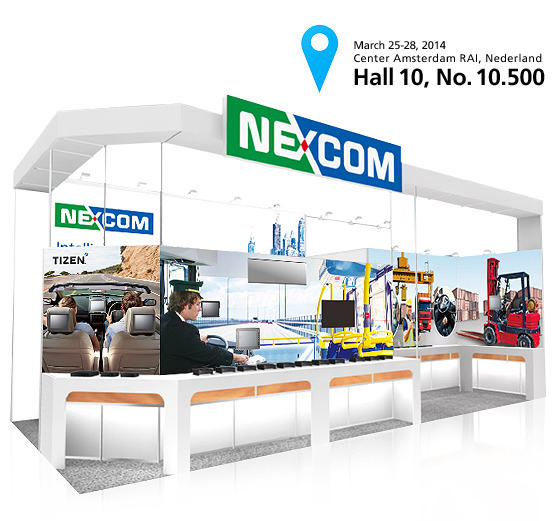 For public transportation, NEXCOM's vehicle mount computer VMC3001 combines functions including vehicle tracking and monitoring, real-time passenger information, and real-time surveillance for use in bus application. Powered by Intel® Atom™ processor D2550, VM3001 has a built-in GPS receiver and supports Bluetooth, Wi-Fi and 3G expansion to allow for real-time communication and navigation. With NEMA4/IP65-compliant ruggedized enclosure, VMC 3001 vehicle mount computer can resist vibration, dust, and moisture and work on the bumping road without losing its functionality to ensure transportation safety and productivity.
The combination of VTC 7200, VMD 3002 and NCm-301-V will demonstrate a smart application which integrates real-time people counting and transportation signage for passenger infotainment. The in-vehicle computer VTC 7200 powered by 4th generation Intel® Core™ processor i7-4650U/i5-4300U/i3-4010U can meet the multitasking demand. By integrating a variety of I/O ports and 4x Mini-PCIe sockets, VTC 7200 is suitable for use in not only video surveillance but also telematics applications, including infotainment and fleet management. The VMD 3002 is a 10.4" multi-touch vehicle mount display which features camera support, enhanced sunlight readability, and ruggedness to stand up to vigorous daily use.
For in-vehicle infotainment, the feature-rich VTC 1010-IVI with support for the Tizen In-Vehicle Infotainment (Tizen IVI) software platform allows automakers to immediately turn a vehicle into an information desk, a media service center, a Wi-Fi hotspot and even a mobile diagnostic center. Based on the Intel® Atom™ processor E3800 product family, VTC 1010-IVI features wide operating temperature support, dual WWAN and SIM, and vibration and shock resistance based on MIL-STD 810G and is ideal for automobile environment.
To meet special purpose mobile demands, NEXCOM VMC lineup will demonstrate its capabilities of goods handling, task arrangement, warehouse management as well as fleet management for use in tough harbor environments. The 7" all-in-one vehicle mount computer VMC 1000 is encased in an incredibly compact, vibration resistant, and IP54 rated exterior and features smart power management mechanism. VMC 3010 powered by Intel® Atom™ processor D2550 aims to meet the needs of vehicle telematics and energy efficiency. VMC 4511 integrates Intel® Core™ i7 2610UE processor, high resolution LCD with the brightness of 400 nits, and 5-wire antiglare touch screen. VMC 4511 is designed to handle computing-intensive tasks in transportation, warehouses and material handling workplaces. The 7" rugged tablet MRC 1100, weighing 0.99kg, is powered by Intel® Atom™ Z530, and designed to withstand the daily rigors of industrial use.
We cordially invite you to visit NEXCOM booth to see the latest industrial technologies which can empower your mobile workforce!
Event Details
Date: March 25~28, 2014
Exhibition Center: Center Amsterdam RAI
Booth: Hall 10, 10.500