NEXCOM will bring the most groundbreaking security surveillance offerings to this year's CPSE at Shenzhen, China, from Oct. 29th to Nov. 1st. At booth 6C12, NEXCOM will demonstrate the latest camera innovations featuring new H.265 (also known as HEVC) technology, ultra-low light surveillance cameras, and comprehensive mobile surveillance solutions.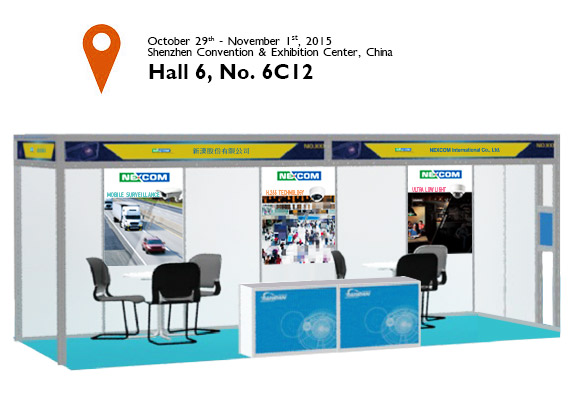 As HEVC codecs technology plays a key role for future security surveillance, NEXCOM will demonstrate its latest H.265 cameras with advanced features for wide applications-NCi-241-R for indoor and NCo-351-VHA and NCr-661-VHA for outdoor use. NEXCOM H.265 cameras are able to deliver better 4K video smoothly by using cutting-edge H.265 codecs with lower bandwidth transmission. Using Sony STARVIS technology, these H.265 cameras bring enhanced ultra-low light and adaptive IR functionalities, thus ensuring uncompromised protection under different lighting condition.
To demonstrate clear view caught by in extreme low-light environments, NEXCOM will showcase several 2 megapixel IP cameras suitable for dimly-lit bars and dark alleys. Supporting power over Ethernet (PoE) function, NEXCOM 2 megapixel IP cameras are even suitable for places where power source is less available. Catering to varying lighting conditions, NEXCOM 2 megapixel IP camera, 220ROVP, also features Sony STARIVS technology, and is able to cope with challenging lighting condition, allowing the camera to capture clear images with vivid colors in low light. Also, 220ROVP has IP66 enclosure, making it ideal for outdoor use.
In addition, NEXCOM will present a full range of mobile security surveillance solutions including megapixel IP cameras, NVRs, and all-in-one security camera system called Syskam.
The mobile IP camera NCm-301-V supports image stabilization and offers 3-megapixel image quality. With EN50155 certification, the camera is compact and rugged surveillance solution for rail operations.
The fanless mobile NVR, NViS 2310, is packed with onboard diagnostics interfaces, flexible wireless expansion, and user-defined action features for in-vehicle surveillance, suitable for commuter shuttles, long distance coaches, and vehicle fleets. Using swappable HDDs, the vibration-proof NVR provide high capacity storage at a lower cost, storing a wide variety and high volume of surveillance footage.
The Syskam NCk-251, combing cameras and NVRs together, saves installation time and errand. Supporting video analytics, the Syskam can automate both license plate reading and identification for license plates and drivers' faces at parking facilities.
To learn more about NEXCOM's intelligent security security surveillance, please visit us at Shenzhen Convention & Exhibition Center on Oct. 29th to Nov. 1st, 2015.
Event Details
Time: October 29- November 1, 2015
Venue: Shenzhen Convention & Exhibition Center, China
Hall 6, No. 6C12