The versatile NISE 104 Fanless Industrial Controller powered by the all new Intel® Atom™ Dual Core D2550 1.86 GHz processor with Intel® NM10 Express chipset, crams a myriad of I/O interfaces into a tiny footprint. Furthermore, when compared with other industrial computing solutions of the same type and size, NISE 104 offers unrivalled performance, functionality and value for money.
Designed with graphic intensive applications in mind, NISE 104 has a powerful on-board 1.86 GHz processor and excellent graphics handing capabilities including 1080P. In addition, NISE 104 will support Dual independent Digital Display via DVI-I and HDMI outputs and is therefore the ideal solution for self-service kiosk type applications. For additional flexibility a VGA connection is available via an optional converter.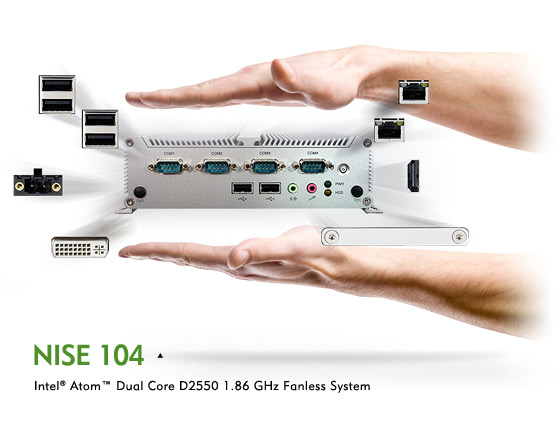 In terms of storage, fanless NISE 104 will support a standard 2.5" HDD or SSD, in addition it can also be utilised with a CFast module which offers faster rates of data transmission in comparison with conventional compact flash.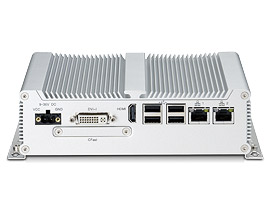 Despite its dimensions, fanless NISE 104 packs an amazing amount of I/O into an incredibly compact 185mm by 131mm by 54mm chassis. I/O options include, Dual Intel® 82574L GbE LAN ports, 6x USB2.0, 2x RS232, 2x RS232/422/485, CFast socket. In addition, Wireless or 3.5G Connectivity is available via a mini-PCIe socket and also includes a Wi-Fi/GSM auto recognition function – another new feature for this platform.
The Dual Intel® 82574L GbE LAN ports incorporates a LAN teaming function which means, that if for any reason one of the LAN ports should fail the other LAN port can act as back up to ensure that all data is transferred.
Like all products in the NISE range of Industrial Computer Systems NISE 104 is totally fanless and constructed from only the finest industrial-grade components and therefore much more reliable than a commercial-grade PC. For enhanced durability, NISE 104 has a "cable-free" internal construction, a feature which makes it more resistant to vibration and eliminates the possibility of users mixing up the cables.
With a wide range of power inputs from 9 to 36 V DC and six USB, NISE 104 will find applications within Industrial Automation including Drilling Machine, Drilling Rig and CNC Machine applications. With its tiny size, low maintenance design and power graphics engine NISE 104 is also perfect for use in Kiosk applications or Smart Policing type projects.
Main Feature
On-board Intel® Atom™ Dual Core D2550 processor, 1.86 GHz
Intel® NM10 Express chipset
1x DVI-I & 1x HDMI display output
Dual Intel® 82574L GbE LAN ports
RS232/422/485 and 2x RS232
6x USB2.0
1x external CFast socket
1x mini-PCIe with two antenna holes
Support 9-36V DC input
Supports ATX power mode, WoL, LAN teaming and PXE function
Ordering Information
NISE 104 (P/N: 10J00010400X2)
Intel® Atom™ Dual Core D2550 fanless system
12V, 60W AC/ DC power adapter w/o power cord (P/N: 7400060013X00)