Scalability is possible for embedded applications based on ARM architecture. ARM-based computer on modules from GreenBase Technology (GBT), an affiliate of NEXCOM that focus on ARM architecture, have flexible performance, small form factor and ultra low power consumption. Along with base boards and rugged tablet, GBT is ready to shine at embedded world 2012, in Nuremberg, Germany, from February 28 to March 1.
Flexibility is the key attribute of GBT computer on modules. GBT computer on modules support full range of Texas Instruments processors based on ARM architecture. From Sitara™ ARM® Cortex™-A8, OMAP™ 4 dual core Cortex™-A9 and DaVinci™ digital media processors, GBT offers the best combination of number of core, power consumption, I/O capabilities and DSP.
In addition, these modules have pin for pin compatibility, enabling fast, easy, and economical system upgrade without replacing the whole circuit boards. Various operating systems including Windows Embedded CE 6.0, Windows Embedded Compact 7, upcoming Windows 8, Linux 2.6.x and Android 2.3/4.0 are supported by GBT products.
Under every computer on module, there is a base board. GBT base boards are not only fully compatible with GBT computer on modules. The boards can also be customized for individual project requirements. Moreover, GBT provides full technical document to help clients develop base board on their own to keep a tight hold on core technologies.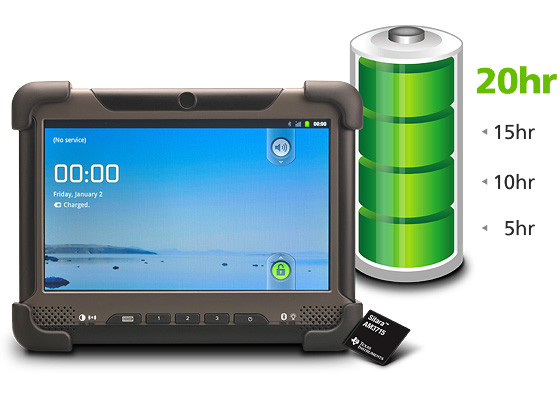 GBT will also show a prototype tablet based on 1 GHz ARM-based TI Sitara™ AM3715/DaVinci™ DM3730 microprocessor at embedded world 2012. The tablet, dubbed F7, has a 7" touch screen; supports Windows Embedded CE 6.0/Linux 2.6.x/Android 2.3, Wi-Fi and Bluetooth® connectivity; and can run as long as 20 hours on a single charge. It is a demonstration that embedded devices for industrial applications can embrace the green concept yet remain functional.
"Both GBT and NEXCOM are strongly committed to the booming embedded SoC market." said Clement Lin, the CEO of GBT and NEXCOM. "Combining outstanding programming and customization service capabilities from GBT, and NEXCOM's manufacturing capability together, we can transform the customer's innovative ideas into business reality, especially with ARM-based platforms."
"Nowadays annual shipments of ARM-based products have hit 2 billion units. We are now preparing ourselves for 10 billion units per year, and it is just couple of years ahead" said Lin.
Visit GBT at embedded world 2012 in Nuremberg, Germany from February 28 to March 1, 2012. See how GreenBase Technology green the embedded world at exhibit stand 154, Hall 1, Exhibition Centre Nuremberg.
Please visit our website to learn more: www.greenbaseT.com