Railway networks prepare for the latest and greatest, as NEXCOM presents the aROK 5510, our newest, top-notch, and AI-enhanced railway computer. The computer has been carefully conceived to outmatch competitors' comparable solutions in several aspects. It serves three main purposes: AI edge computer, security storage server, and communication hub. The smart rackmount design with front-facing I/Os saves valuable space, yet maintains high performance while providing a spectrum of AI-enhanced uses to keep passengers safe and equipment up-to-date.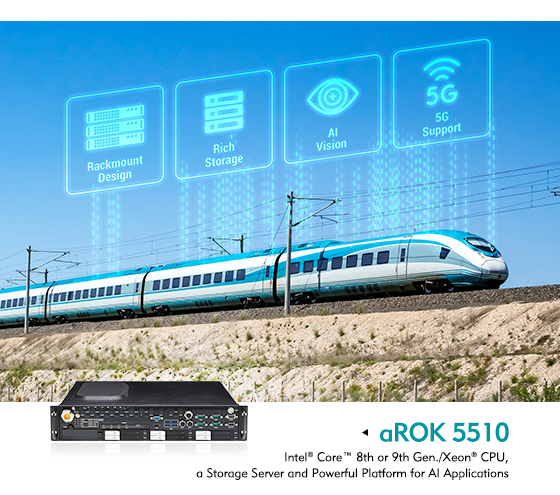 AI vision means that applications are limitless
The aROK 5510 is particularly designed for purposes requiring AI with vision technology. We support a variety of high-performance GPUs from Nvidia, Google Coral, and Intel Movidius. Deploying AI in our transportation solutions can tremendously improve vehicular and passenger safety through track obstacle/intrusion inspection, traffic light and sign recognition, pantograph inspection, luggage monitoring, people counting, abandoned object detection – and even predictive maintenance. For tasks such as real-time passenger monitoring, optional PoE high-resolution cameras can complete your AI-enhanced system. Send data to your control center for big data analysis to further enhance your transportation system.
More storage for security purposes
Our newest railway computer additionally serves as a storage server for all of your security and data computing needs. Up to eight SSDs (6 x accessible 2.5", 1 x mSATA, 1 x NVMe 1.3) can store video clips from IP surveillance cameras or general media. Most notably, six 4TB drives can support up to 16 full HD cameras recording 24 hours per day – for approximately 50 days! Utilize the mSATA drive for OS and VMS software or as a streaming media server, while the NVMe 1.3 can process machine vision data. An extra SD memory card can similarly serve as backup for video clips and import/export configurations.
Network with less work
What's more, the aROK 55100 is a communication hub for external and internal networking. A total of seven expansion slots are available, more than in any previous model. As speed and bandwidth are of utmost importance, take advantage of the buzz of 5G network deployments by utilizing three to four M.2 slots for 5G modules, each equipped with a pair of SIM card slots for network redundancy, so that you can swap operators when network signals are weak. Up to two mPCIe slots are also available for 10GbE LAN modules, which you can employ as separate WLAN networks: a private one for communication with your control center and a public for passenger Internet access. We can even provide other optional modules – two 10G SFP+ for flexible network transceiver uses, or four PoE with M12 X-coded connectors for operating the aforementioned surveillance cameras.
Thoughtful design for optimal performance
Most importantly, the aROK 5510 avoids vibration issues that railway computers frequently encounter with its special fixture design, ensuring that GPU performance is at its best. The GPU is first fastened with screws to a bracket, which is then secured to the motherboard, operating at 2.0g @ 5 to 500 Hz. Moreover, the computer has earned CE, FCC Class A, and EN 510155 certifications for added assurance of durability. Our intelligent fan design is also robust, quiet, and power-efficient, adjusting RPM speeds based on internal temperatures. For better heat dissipation and to additionally counter vibration issues, we further built in a heat sink cooling system and provided a copper pipe for more efficient thermal conductivity.
Main Features
Intel® Coffee Lake S/Refresh 8th/9th-Gen Core™/Xeon® LGA1151 socket-type CPU
100W power consumption graphics card support
Eight SIM cards + four WWAN modules support
LTE/5G WWAN module support
6 x External SSD for RAID 0, 1, 5, 10
NVMe 1.3 high performance SSD support
EN 50155, class OT4 conformity
3 x mini-PCIe + 3 x M.2 socket expansion
Two video outputs, one VGA and one HDMI
1 x SD card for exporting and backing up data
Optional expansion module for 4 x PoE M12 or 2 x 10GbE SFP+
Rackmount platform
Ordering Information
aROK 5510 (P/N: 10A20551003X0)
Intel® Coffee Lake S/Refresh 8th/9th-Gen Core™/Xeon® LGA1151 socket-type CPU, DC input 24 or 110 VDC w/ isolation, 2 x LAN, 3 x mini-PCIe, 3 x M.2, 8 x SIM, 1 x VGA, 1 x HDMI, 2 x RS232, 2 x RS232/422/485, 4 x DI, 4 x DO, 4 x USB 3.1, 2 x USB 2.0