In recent years, NVRs have become increasingly popular for enhancing video surveillance systems. Technological advancements have led to increasing user demands for features such as camera/PoE ports, storage size, AI technology, add-on accelerator support, and application compatibility. To meet these demands, NEXCOM introduces the NViS 66162 and NViS 6602 2U desktop NVRs with rack rail support. Both feature the 12th Gen Intel® Core™ processor, PCIe x16 interface, and other advanced features ideal for real-time surveillance system and video analytics applications.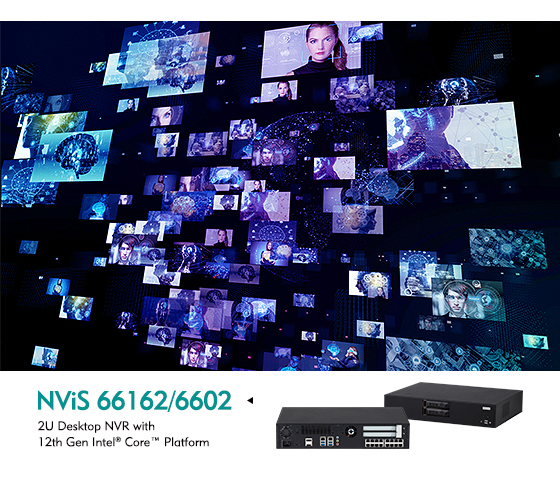 Powerful Processor
Powered by 12th Gen Intel® Core™i processor, it offers PCIe Gen 5 and improved graphics capabilities. Moreover, it adopts a hybrid CPU architecture, providing up to 8 Performance Cores and 8 Efficient Cores, which are essential for multithread workloads, scheduling algorithms, and power-saving purposes.
Super High speed OS Application Access
Both NVRs offer PCIe 4.0 NVMe SSD for 24-hour operations, providing twice the performance of PCIe 3.0. The high data transfer speeds improve VMS application load times, data searches, and massive video surveillance playback, which is useful for luggage identification in airports.
Important Slot for Intelligent Applications
PCIe Gen 5 offers double the transfer speed of its predecessor, leading to increased workload efficiency with higher bandwidth. The NViS 66162 and NViS 6602 models have a PCIe 5.0 x16 slot for a full-length accelerator card add-on, which reduces computing time for cloud computing and inferencing in video analytics applications such as real-time police car detection of stolen vehicles and criminals via cameras and server.
Speedy RJ45 Connector with 2.5GbE
NVR users now demand faster data transfer with at least 1GbE network interface. Although the 10GbE solution already exists in the market, it is not yet cost-effective and is only limited to optical fiber as its transmission medium. Therefore, most users currently lean towards utilizing 2.5GbE, as it is more economical and does not need any cable rewiring. To meet the needs of surveillance systems and video analytics applications, the NViS 66162 and NViS 6602 models come with two 2.5GbE LAN ports, which is useful in places like supermarkets that need to maintain a tidy environment while gathering big data.
User-Friendly Smart PoEs (NViS 6602 SKU Not Supported)
The NViS 66162 has 16 built-in PoE ports that can support either 16 10/100 802.3.af or eight 10/100 802.3at within 240W. It also has PoE management functions for controlling and monitoring port status, including the ability to enable/disable and monitor power consumption in real-time. This NVR can reliably manage video streams without interruption, ensuring a modern surveillance system that gives peace of mind.
Main Features
System 2U desktop
DDR4 up to 64GB
HDD 2 bay 3.5" + 3.5" (support RAID 0,1)
1 x NVMe SSD, 1 x M.2 2242 SATA SSD
DisplayPort 1.4, HDMI 2.0b x 1, HDMI 1.4 x 1
2 x 2.5GbE Intel® Ethernet
Audio in/out/Mic
16 X 10/100 PoE (240W max PSE)
PCIe x16
Ordering Information
NViS 66162 (P/N: 10C00661600X0)
2U desktop NVR with 16 port built-in PoE
NViS 6602 (P/N: TBC)
2U desktop NVR with PCIe x16 support