For the ARM-based system enthusiast looking for a simple digital signage player, NEXCOM offers the NDiS B116, perfect for a variety of purposes, both indoor and outdoor. The box player is powered by ARM's Rockchip RK3999 for low-power, high-performance processing and includes DDR3 and eMMC memory, essential I/Os, and expansion sockets. Its fanless and slim design are perfect for digital signage, such as welcome boards, bus stops, and wait time displays, but also IoT applications for smart cities. We also provide an embedded board version, the NexCore Q116.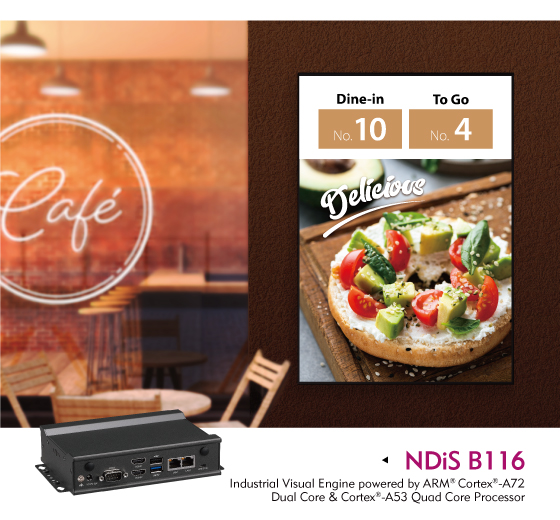 ARMed for success
The highlight of the NDiS B116 is the ARM® Rockchip RK3399 processor. Small enough to embed in personal mobile and other smart devices, the processor also brings efficiency to digital signge players by switching between integrated dual-core Cortex-A72 (optimized for high performance) and quad-core Cortex-A53 (low power) chips, depending on user needs. The slimline visual solution also minimizes space with integrated 2GB of DDR3 memory and 8GB of eMMC flash storage, though 4GB memory and 16GB storage options are also available. The NDiS B116 supports Android 7.1 so that you don't need to expend unnecessary effort porting.
Multi-meet-your particular needs
The NDiS B116 is all about supplying rich multimedia content – that's why we support simultaneous HDMI 2.0 dual display and 4k 60Hz resolution. But don't let the minimalist and modest design fool you: it's suitable for both outdoor and indoor uses, with a considerable temperature range for its size, of 0 to 60°C. Thus, kiosks and information booths have been just a few of the many uses that clients have found for our all-purpose 4k signage player!
Talk to me like others do
Connectivity is a crucial component of every digital signage player. You'll find it easy to connect devices to the B116 with the multiple USB 3.0/2.0 ports and single RS232/422/485 port, though the box player can support up to four COM ports. Such devices can access the Internet via two LAN ports. The mini-PCIe expansion can additionally provide LTE/Wi-Fi access for wireless usage, especially in semi-outdoor and outdoor environments. As applications are often remotely controlled, we also provide a watchdog timer to detect and recover from potential malfunctions. Finally, an internal mic-in/line out is available for audio needs.
Main Features
Onboard Rockchip RK3399 ARM® Cortex®-A72 and Cortex®-A53
2 x 10/100/1000Mbps LAN port
2 x HDMI 2.0
2 x USB 2.0, 1 x USB 3.0, 1 x USB 2.0 OTG
1 x RS232/422/485
1 x mini-PCIe socket for optional Wi-Fi/3.5G/LTE modules
Fanless and slim design
Supports Android
Ordering Information
NDiS B116 (P/N: 10W00B11600X0)
Rockchip RK3399 ARM® Cortex®-A72 Dual Core and Cortex®-A53 Quad Core, onboard 2G LPDDR4 and 8G eMMC, 1 x COM
NDiS B116-4G-16G (P/N: 10W00B11601X0)
Rockchip RK3399 ARM® Cortex®-A72 Dual Core and Cortex®-A53 Quad Core, onboard 4G LPDDR4 and 16G eMMC, 4 x COM
NexCore Q116 (P/N: TBD)
Rockchip RK3399 ARM® Cortex®-A72 Dual Core and Cortex®-A53 Quad Core SBC, onboard 2G LPDDR4 and 8G eMMC, 4 x serial port (pin header)