Commercial applications demand power, which traditionally used to mean hardware bulk and high operating costs. But with single board computers such as the NEXCOM PEAK 889VL2, a powerful and flexible foundation for everything from smart manufacturing to upscale retail displays has arrived, loaded with features and acting as a central I/O platform for a variety of applications.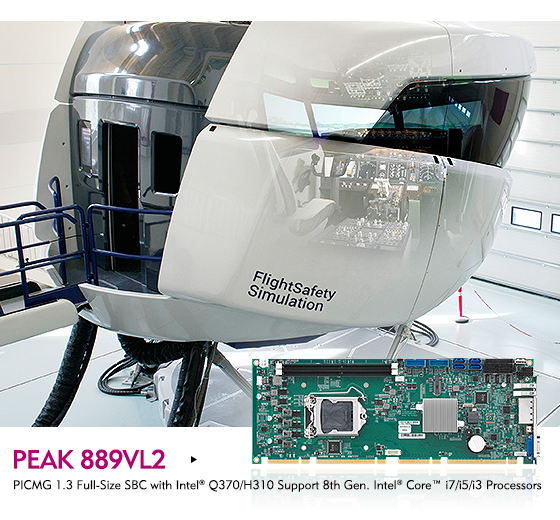 PICMG 1.3 compliant
The PEAK 889VL2 meets PICMG 1.3 requirements, fully endorsed by the PCI Industrial Computer Manufacturers Group. That means the device offers heavy duty reliability and can be trusted to act as the heart of an intelligent system in fields such as manufacturing, retail, healthcare, and many more.
A fully loaded single board computer
The PEAK 889VL2 uses the Intel® LGA 1151 socket to support 8th generation Intel® Core™ processors, offering users ample power and plenty of choices when it comes to selecting a CPU suitable for different needs and budgets. At the same time, power consumption remains modest thanks to 65W TDP processors. Onboard graphics flow from the Q370 chipset to three displays or two monitors with the H310 chipset. Each board has DisplayPort, Mini DisplayPort, and VGA, and resolutions reach 4096 x 2304 via DisplayPort.
Pack on the DDR4
With as much as 32GB of 2666MHz DDR4, the PEAK 889VL2 can easily handle heavy multitasking, allowing for a stable and reliable hub at the heart of even the most demanding industrial or enterprise-level installations.
Enhanced expandability
To immediately accommodate a wide spectrum of associated devices and maintain good futureproofing, the PEAK 889VL2 ships with a surprisingly complete range of inputs and outputs for a compact single board computer. Users get as many as 11 USB ports, including USB 3.1 Gen 2. For storage, the PEAK 889VL2 features a high speed M.2 2280 PCIe Gen3 x4 (with support for Intel® Rapid Storage Technology) plus four SATA 6Gb/s ports, which can be configured in RAID 0, 1, 5, and 10.
Great for distributed edge computing
Due to being compact but so well-featured, the PEAK 889VL2 helps businesses and organizations construct low latency, highly responsive edge computing topologies. With endpoints having access to increased computational power, storage, and connectivity, a better balance for IoT implementation can be attained.
Desktop in a single board – with a choice
Essentially, the PEAK 889LV2 leverages PICMG 1.3 and improves on the standard to deliver the flexibility and power of a fully-fledged desktop via the compact simplicity of a single PCI Express plug-in PCB no larger than an average graphics card. Even better, customers can choose between the high performance PEAK 889VL2 (Q370 chipset) and its lower cost sibling the PEAK 889VL2-H (H310 chipset). Both will serve you well as the core of a smart setup, but having two options allows for more choice based on different budgets, as befits a product built for flexibility.
Main Features
Intel® Coffee (8th generation Core™ i7/i5/i3) processor, 65W TDPs, LGA1151 socket
Support Intel® Q370/H310 PCH chipset PICMG 1.3 specification
Support 2 x DDR4 Long DIMM 288-pin socket
Support multiple display from VGA & mini DP & DP
4 x SATA III, 2 x GbE LAN, 4 x COM, 1 x LPT, 4 x USB 3.1, 2 x USB 2.0, 1 x HD audio, M.2
Optional: TPM, CPU cooler, M.2 storage
Ordering Information
PEAK 889VL2-Q (P/N: 10P00088901X0)
PICMG 1.3 full-size SBC, Q370, Intel® LGA1151, DDR4 DIMM, support triple display, 2 x LAN, 6 x USB 3.0, 4 x SATA 3.0, M.2 (support PCIe storage)
PEAK 889VL2-H (P/N: 10P00088900X0)
PICMG 1.3 full-size SBC, H310, Intel® LGA1151, DDR4 DIMM, support dual display, 2 x LAN, 4 x USB 3.0, 4 x SATA 3.0