Digital transformation is driving demand for embedded computers with higher processing power to tackle the needs of automated warehouses and factory automation. The increased data processing for applications such as automation, robots, CNC machines, and machine monitoring demand a new breed of embedded systems capable of handling these rising loads. In order to meet those challenges, these embedded systems must make use of the latest CPUs, support a wider range of modern display interfaces, and incorporate a carefully selected assortment of connectors.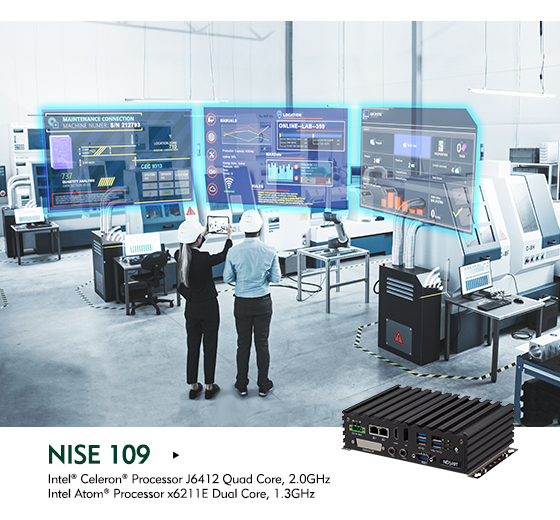 Powerful Modern Processors
Newer processors are faster and much more capable of efficiently handling specific processing loads. The new direction for these processors is towards efficiency over brute force, with newer options crafted to provide processing power closely matched to the real-world tasks performed on the ground — two variations of the NISE 109 are available. The
NISE 109-E02 is the faster option when performance is the number one factor. It features a 2.0GHz quad-core Intel® Celeron® J6412 providing over 2 x the processing power of competitor's embedded systems with similar specifications. The NISE 109-E01 is the wide temperature range option, with a 1.3GHz dual-core Intel® Atom® x6211E providing reliable operation from -20 to 70℃, for when reliability under harsh conditions is the foremost concern.
DisplayPort, HDMI, and LVDS
Since the phasing out of VGA back in 2015, HDMI has replaced it as the most common monitor interface. However, the original reason for dropping VGA was to favor both HDMI and DisplayPort, digital display interfaces intended for the next generation of displays. HDMI may be more widely known, but DisplayPort, often touted as the "gaming" option for regular PCs, provides higher bandwidth with DisplayPort 1.4 supporting 8K up to 60Hz, exceeding the 4K @ 30Hz of the HDMI 1.4 interface. The NISE 109 comes with a DisplayPort 1.4 and an HDMI 1.4 port to provide the best of both worlds. This combination offers the broad compatibility of HDMI but also opens up the doors to a range of different capabilities available through DisplayPort, catering to a growing segment of integrators and operators developing applications that work optimally through this interface. Finally, in keeping with modern display interfaces, there is an internal LVDS connector so the NISE 109 can be attached to a monitor to create a powerful panel PC.
Wide Assortment of Connectors
An embedded system designed to tackle a wide range of tasks and setups must have connectors to cater to the most commonly used scenarios by connecting to a network, machines, and peripheral devices. The NISE 109 provides a selection of connectors designed for just this purpose. Two gigabit Ethernet connectors are provided with Intel® I210-IT GbE Ethernet controllers, supporting Wake-on-LAN, teaming, and PXE. A total of four COM connections (through DB-9 ports) provide for RS-232 (two ports) and RS-232/422/485 (two ports). Other connectors include three USB 3.0 ports, three USB 2.0 ports, remote power on/off switch, mini-PCIe for a wireless networking module, as well as M.2 and 2.5" SATA.
Keep Pace With New Technology
When the pace of technology runs unabated, the NISE 109 allows you to keep up. It puts the latest, most powerful technology at your fingertips to ensure that your next automation, robot, or machine monitoring project is built to the highest specifications and future-proofed well into the next few years.
Main Features
Onboard processor options: Intel® Celeron® J6412 (-5–55℃) / Intel® Atom® x6211E (-20–70℃)
Dual display: 1 x HDMI & 1 x DisplayPort
2 x Intel® I210-IT GbE LAN (WoL, teaming, PXE, Ethercat)
3 x USB 3.0 & 3 x USB 2.0
2 x RS232 & 2 x RS232/422/485
1 x 2.5" SSD & 1 x M.2 Key B storage
9-30V DC input (supports ATX power mode)
1 x M.2 & 1 x mini-PCIe
Ordering Information
NISE 109-E01 system (P/N: 10J00010900X0)
Intel Atom® processor x6211E 1.3GHz
NISE 109-E02 system (P/N: 10J00010901X0)
Intel Celeron® processor J6412 2.0GHz
24V, 60W AC to DC power adapter w/o power cord (P/N: 7400060054X00)
24V, 120W AC to DC power adapter w/o power cord (P/N: 7400120029X00)