Armed with advanced technology, NEXCOM aims to maximize security surveillance and business intelligence capabilities for a variety of vertical industries. At 2017 IFSEC, NEXCOM will showcase its 3D ToF Camera made for business intelligence and their 180-degree multisensor panoramic camera designed as an all-seeing eye for ultimate surveillance.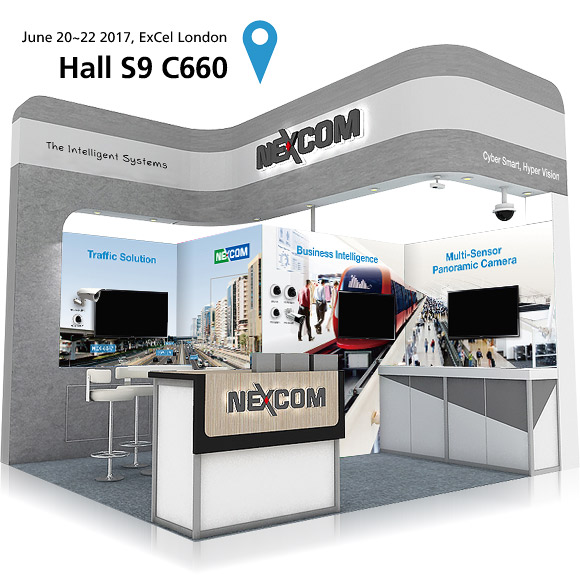 Given the rise of big data, cameras can serve as one of the crucial sensors for gathering accurate data for business intelligence. NEXCOM's 3D camera BIC-251, based on time-of-flight and IR technologies, features the advantage of capturing rapid images with in-depth and accurate details of everything in its view, even under various lighting conditions. The compact design and easy installation give BIC-251 the convenience to be installed in any space-constrained location, and is ideal for applications like retailers, public transit systems, warehouse forklifts, banks, and airports to gather big data for business intelligence.
Built with 4 camera sensors, NEXCOM's panoramic cameras NCp-501 and NCp-201 can survey a wide area of up to 180-degrees and eliminate blind spots. Featuring a 20MP/8MP sensor and SMART IR with SR LED, NCp-501/NCp-201 panoramic camera can capture accurate and clear images up to a distance of 30m in environments with any level of illumination. In addition, the 4 camera sensors of NEXCOM's panoramic cameras share a single IP output to conserve IP address and allow easy integration with VMS. The panoramic cameras can thoroughly enhance security surveillance for large venues such as schools, parks, public transportations, and tourist attractions while reducing costs and simplifying installation when the location requires multiple cameras for a single area.
At 2017 IFSEC, NEXCOM will be demonstrating various public transportation scenarios to illustrate how 3D and panoramic cameras can be effective tools for public transportation. Cordially invite you to visit NEXCOM at IFSEC to discover NEXCOM's latest security surveillance technologies and solutions in vertical markets.
Event Details
Date: June 20-22, 2017
Venue: ExCel London, London, UK
Booth: Hall S9 C660