The future of retail just got smarter, faster, and more efficient with the launch of Neu-X303mini, the latest innovation in edge AI computing. Developed by leading technology experts, this advanced device is set to transform the retail landscape, offering unparalleled performance and a compact design to meet the demands of modern businesses , including optimizing inventory management, enhancing customer experiences, and streamlining operations for maximum efficiency.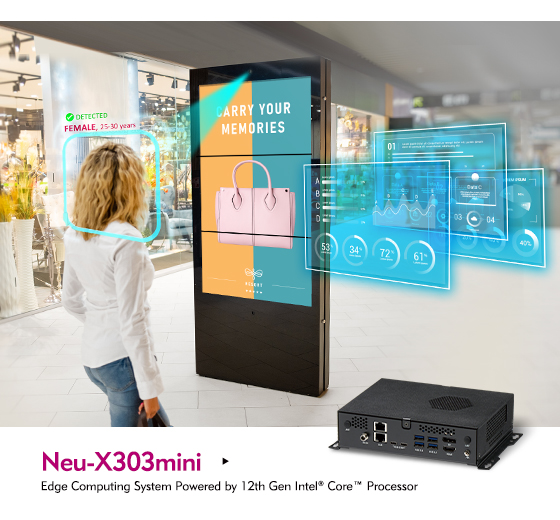 Unleash the Power of Intelligence: Edge AI Computing
The Neu-X303mini is powered 12th Gen Intel® Core™ processor, enabling retailers to process and analyze vast amounts of data at the source itself by cutting-edge Edge AI computing. This real-time data processing minimizes latency, ensures instantaneous decision-making, and empowers retailers to gain actionable insights like never before. As a result, businesses can leverage IoT technologies and retail analytics to transform inventory management and create a lightning-fast checkout experience that removes barcode scanning, shortens lines, and delights customers.
Compact Design for Space Optimization
Sleek and Compact Design Designed to effortlessly blend into any retail environment, the Neu-X303mini features a sleek and compact design. Measuring at just 183mm (W) x 137.9mm (D) x 47.9mm (H), this mini powerhouse can be easily integrated into limited spaces without compromising on performance. Its unobtrusive presence allows businesses to focus on what matters most - serving their customers better.
Enhanced Connectivity for Uninterrupted Operations
Featuring Intel® Iris® Xe graphics, the platform delivers powerful graphics offering stunning visuals for compelling 4K content creation and media playback. Recognizing the importance of seamless connectivity in retail setups, the Neu-X303mini is equipped with 2 LAN ports, 4 USB ports, and 2 USB Type-C ports to support QSR drive through kiosks, box office displays, information stands, bus stops, or digital transit information signs. This comprehensive array of connectivity options ensures easy integration with existing systems and peripherals, making it a breeze to set up and operate.
Neu-X303mini is a game-changer in the retail industry. With its powerful edge AI computing capabilities and top-of-the-line Intel® processor, retailers can harness real-time insights to optimize their operations and provide unmatched customer experiences. With enhanced graphics performance, it is also ideal as a visual edge computer delivering advertising, hospitality, and brand promotion applications in an all-new immersive experience. Don't miss the opportunity to revolutionize your retail business with Neu-X303mini.
Main Features
12th Gen Intel® Core™ (Alder Lake PS) processor SoC
Four 4K@60Hz display output, DP, HDMI 2.1 and 2 x USB 3.2 Type-C
Dual 2.5G LAN ports, 4 x USB 3.2 and 2 x USB 3.2 Type-C ports for easy connection
Onboard M.2 2280 Key M with PCIe signal for storage modules
Onboard M.2 2230 Key E for optional Wi-Fi modules
Compact design (L: 183mm, W: 137.9mm, H: 47.9mm)
12V DC in
Ordering Information
Neu-X303mini (P/N: 10W10X30300X0)
Socket LGA1700,12th Gen Intel® Core™ i7/i5/i3 processor compact system, 12V DC