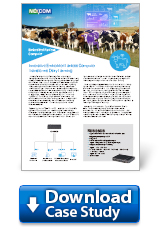 The dairy farming industry faces significant challenges in managing livestock and optimizing farm operations. A major hurdle is accurate cow monitoring, complicating precise record-keeping of identification, health status, milk yield, and food biosecurity. Current data collection and analysis rely on manual methods, hindering timely tracking and data-driven decision making. Lack of real-time data and insights leads to potential wastage and negatively impacts cow welfare and productivity. Addressing these challenges demands an innovative solution, and IoT gateway represents a promising approach for such advancements in the industry. NEXCOM's NDiS B560S, a slim, embedded fanless computer offers a comprehensive smart farming solution. It integrates with electronic and visual cow tags to enable accurate monitoring, automated data collection, nutrition analysis, and optimized resource allocation.
Powered by the Intel® Core™ i5-8500T processor, the NDiS B560S embedded fanless computer provides seamless connectivity, effectively enhancing cow health and performance through accurate identification and tracking of individual cows. The system facilitates real-time data access on breeding records, health metrics, and milk production, arming operators with vital information to make informed decisions on nutrition, reproduction strategies, and necessary veterinary interventions for smart farming.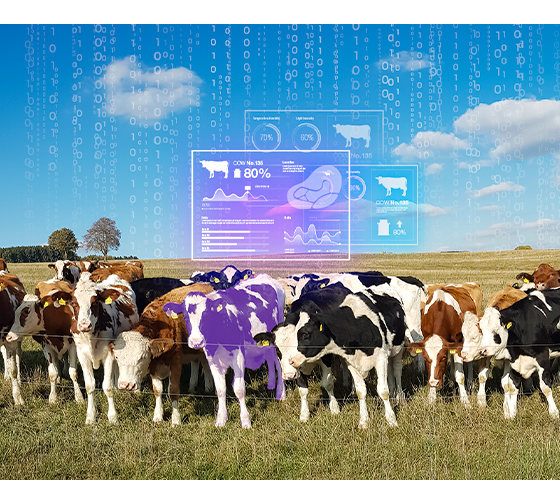 The IoT gateway also accomodates temperature and humidity sensors via M.2 2230 Key E, enabling anticipatory monitoring of environmental conditions, thus mitigating risks associated with heat stress and other potential adverse effects on cow health. With integrating LAN and Wi-Fi capabilities, along with an intuitive touch HMI interface, it permits farm operators to remotely oversee and control various farm aspects. Operators can access real-time data from RFID tags, receive immediate alerts, and make informed decisions from anywhere, significantly boosting efficiency and flexibility.
Leveraging the innovative NDiS B560S embedded fanless computer and cow tags, dairy farms can revolutionize operations, authenticate livestock data, and eliminate human errors associated with traditional paper records. This advanced traceability solution improves food safety, regulatory efficiency, resource allocation, and more.
Application Diagram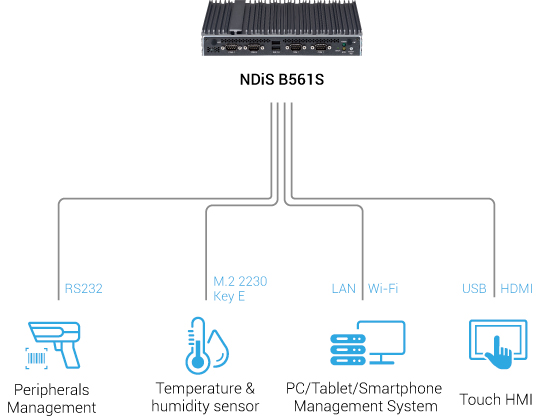 Key Features for Application Needs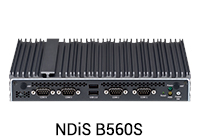 Support 8/9th Gen Intel® Core™ i3/i5/i7 LGA socket type embedded processor, up to 35W
Intel® H310
Intel® integrated UHD 630 graphic engine
Support 2 independent 4K2K 60Hz display output
Compact and slim design (H: 39mm)
Support 1 x 2.5" SATA HDD
2 x HDMI 2.0, 4 x USB 3.0, 2 x USB 2.0, 2 x GbE LAN, 4 x COM, 1 x Line-out, 1 x Mic-in
Support M.2 Key B/E/M
Fanless design