Driverless shuttle is not just a vehicle, it's the third space of future life in smart city. 7Starlake, introduced driverless shuttle into Taiwan for over two years, completing transport mission in Taipei, Kaohsiung, Changhua etc., announces a collaboration with INTEL, NEC Taiwan, NexCOBOT, iPass and Startup Group to embark on a smart life project. 7Starlake will represent future smart life with driverless shuttle test ride on site in 2019 Taiwan Intelligent Transportation System Exhibition(Taiwan ITS) at Nangang Hall 2,1F.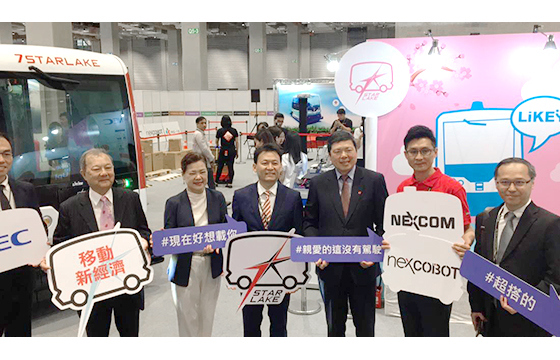 7Starlake GM Martin Ting said, "Driverless shuttle is not just a vehicle, but a movable IoT platform in smart city. Driverless shuttle can connect not only V2V and V2I data, but also other IoT to build virtual smart corridor by picking up residents in cities in MaaS. Besides, driverless shuttle will also integrate with shared service, green energy, 5G, smart retail to enable new mobility economy in the future.
Driverless shuttle has already showed the application in sightseeing and tour guide by combining online and offline, reality and virtual reality media at the Chiayi Southern Branch of National Palace Museum in the end of last year. 7Starlake GM Martin Ting also said"7Starlake and National Taiwan University of Science and Technology (NTUST) collaborate to launch「LiKEY」APP. Besides the ticket reservation, 「LiKEY」also can matches idling fleets with riders in rural area to create sharing economy. In addition, the built-in 2D &3D cameras at the bus stops and inside the vehicles assist in data collection and analysis by AI technology to create smart retail store, and further impact people's lifestyle. 7Starlake will demonstrate future new mobility economy through driverless shuttle test ride at the booth.
To make reservation for vehicles by one touch in "LiKEY"APP and enjoy the all –electronic, green journey without pollution.
Multiple payment methods to choose, iPass, QR code or facial recognition to make payment.
After taking the ride, you can also see all the information, such as shuttle schedule, transfer schedule, and walk in the smart retail store at bus stop and start your wonderful shopping journey.
Smart Target Marketing to see your customized information:digital signage combined with face detection can play pre-define content based on different customer groups, such as gender, age and different environment , such as weather and time slot.
Customers check out by touching screen in Smart Self-Checkout System. After successful identification, the screen will display product name and price. Customers can make payment automatically and save time in waiting.
Smart Self-Ordering System, the smart coffee machine make coffee directly and robot can bring the coffee to customer. Customers don't need to wait in long queue anymore.
24 hours smart vending machine supports multi-payment. Customers can enjoy shopping without cash. The smart inventory management also automatically syncs the inventory and fulfills customer demand in the back end system.
In smart logistics area, ZMP Inc. will show logistics support robot CarriRo® with autonomous driving function. It's operating time can last 8 hours. Two modes are available : Drive mode and following mode. In Drive mode, CarriRo® can be maneuvered effortlessly with heavy load by the control stick. In following mode, the CarriRo® is able to identify beacon and precisely track and follow the leading human user or any preceding CarriRo®. When linked up as a train of each human user can deliver as much as, more times the usual load. CarriRo® are already applied in different scenarios, such as factory, warehouse, hotel and airport in Japan.
The application of facial recognition technology is not popular in Taiwan, However, it's the future trend. NEC Taiwan Government Public Solution Group GM Yu-Chang Zhang mentioned " NEC facial recognition technology belongs to the core technique of NEC Bio-IDiom, using NeoFace, an AI Engine with world no.1 identification accuracy. Passengers can take a picture of your face at the booth, simulating the payment method of electronic purse, using your face to pay and get on the driverless shuttle. When driverless shuttle is ready to get on road, NEC facial recognition can build up personal account through App or SMS, combining with credit card or add value, realizing no cash, card, mobile, but "face"."
NexCOBOT, a NEXCOM company, is committed to provide total solution for smart retail and smart business market. NexStore adopts innovative technologies to create the personalized shopping experience while enabling retailers to serve more customers and drive revenue growth with less effort. Smart Self-Checkout System, Smart Self-Ordering System will also be demoed in the booth. Digital Signage combined with face detection can play pre-define content for accurate marketing.
To deal with complicated analysis and real-time connection, driverless shuttle adapted with 7Starlake rugged CPUGPU computing system which equipped with Intel® Multi- Core Processor, NVIDIA® graphic card, and fanless rugged system with perfect thermal solution. 7Starlake computing system performs excellently on graphic and data computing, and able to sustain under harsh environment, which is optimized for the use in high-end automation and image/data analysis system in both defense and industrial fields.
7Starlake driverless shuttle is in TAIWAN ITS at Taipei Nangang Exhibition Center, Hall 2, from 24th to 27th, April. Come to booth Q0512 to take a glance and experience future smart transportation!
Event Details
Dates: April 24-27, 2019
Location: Nangang Exhibition Center Hall 2, 1F
NexCOBOT Booth: Q0512