The CMC 300 is a new breed of fanless pc equipped with enhanced thermal for an extensive variety of environments. The featured IP65-rated heatsink enables decent cooling effect for non-stop operations, making it a silent substitute for conventional industrial computers with fans where 24/7 cooling is a prerequisite. Ideal applications include energy infrastructures such as wind power stations or charging stations. A wide array of options over Intel® 8th and 9th Gen processors, from flagship Xeon® to the value-oriented Celeron®, caters to demands of different budgets and performances.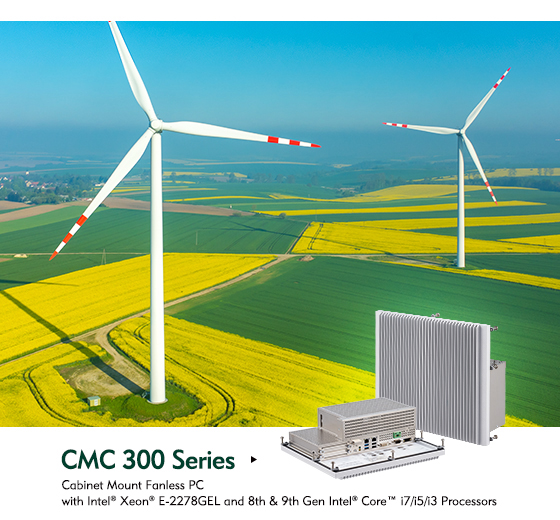 Flexible with processor choices
For various applications, multiple processors are available for optimal configurations of computing power. Powered by an Intel® 8th and 9th Gen processor, with options among Xeon®, Core™ i3/i5/i7 and Celeron®, the fanless computer offers a strong combination of performance, flexibility and scalability covering extensive use cases. A dual of DDR4 memory slots are ready to take up to 64GB, proving smooth operation and responsiveness when system under heavy load.
Stable as a rock, rain or shine
Serving as the backbone of infrastructure systems, the CMC 300 has put reliability and ease of maintenance as a priority. Thanks to a large external heatsink with aluminum fins, the fanless pc could work effectively yet reliably in much broader categories than its peers. When set up in a half-open cabinet, the external heatsink will be exposed to the open air on the back of the cabinet while the rest of the chassis fully enclosed in a cabinet. The external heatsink guarantees excessive heat can be expelled efficiently. Rated IP65, the fanless system could work in harsh areas where water and dust are present. System maintenance is thus a lot easier as high-pressure water spray during operation is all necessary for cleaning, without the need to shutdown equipment.
Connectivity has you covered
Despite a slender figure, the industrial computer is complete with regular I/O ports, convenient for data transmission and bridging with other peripherals: one mini-PCIe for storage and dual Gigabit Ethernet to ensure effective throughput in case data traffic surges. The fanless system comes standard with one mini-PCIe for storage devices. Another variation equipped with two extra PCIe x4 slots is also available to meet expansion demands.
Main Features
Fanless system design with slim type
Intel® Xeon® E-2278GEL and 8th & 9th generation Intel® Core™ i7/i5/i3 LGA socket type processors
2 x Gigabit Ethernet
2 x USB 2.0, 2 x USB 3.0, 1 x COM RS232/422/485
IP65 protection on the outside heatsink
1 x DVI-D display output
2 x DDR4 up to 64GB
1 x mini-PCIe for storage device
2 x Easy-access 2.5" SSD trays
Support power input 24V DC
Ordering Information
CMC 300-F03 (P/N: 10CM0030004X0)
Cabinet mount controller fanless PC with Intel® Core™ i5-9500TE 2.2GHz
CMC 300-F22 (P/N: 10CM0030001X0)
Cabinet mount controller fanless PC with Intel® Core™ i7-9700TE 1.8GHz, and two PCIe x4 expansion slots
CMC 300-F23 (P/N: 10CM0030002X0)
Cabinet mount controller fanless PC with Intel® Core™ i5-9500TE 2.2GHz, and two PCIe x4 expansion slots
Options
DDR4 DRAM 16GB (P/N: 72BGM16G07H00)
DDR4 DRAM 32GB (P/N: 72BGM32G02H00)