NEXCOM 7" rugged tablet MRC 1000/1100 are designed to withstand the daily rigors of industrial use. The MRC 1000/1100 integrates military standard ruggedness, 2.4/5GHz Wi-Fi and 3G connectivity, high usability and secure login authentication. Combining a great variety of optional accessories and peripherals, the MRC 1000/1100 can accommodate unpredictable information needs of mobile professionals in construction, agriculture, logistics, and warehousing industries.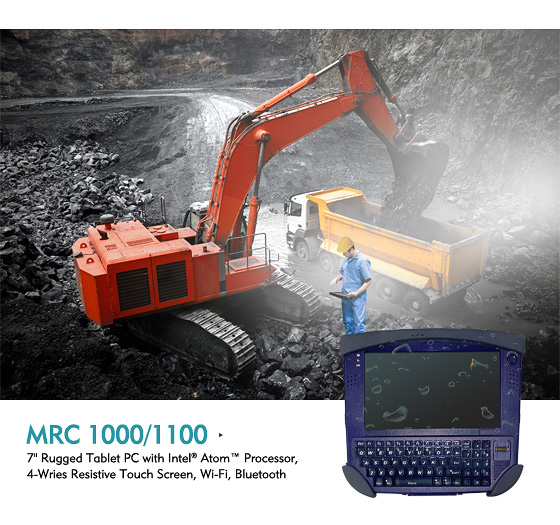 Designed for use in challenging environments, the rugged tablet MRC 1000/1100 meets 810F military standard and IP65 standards, provides a 4-foot drop protection, and has bumpers on four corners - which are effective at controlling damage due to knocks and falls when being used in damage-prone environments. The MRC 1000/1100 can function effectively under the circumstances of sudden impact, vehicle vibration, wind-blown dust, and rain mist. The anti-reflection MRC 1100 with sunlight readability is suited for outdoor use.
To transmit data on the go, the rugged tablet MRC 1000/1100 supports wireless 2.4/5GHz Wi-Fi and optional 3.5G networks. Connection to in-vehicle computers can also be established by Bluetooth pairing. The MRC 1000/1100 allows users to enter data using a physical QWERTY keyboard and touch screen, to take photos with the built-in front 2.0M camera comes, and to read barcodes and magnetic strips through expansion. The MRC 1000/1100 has up to 64GB storage capacity and provides fingerprint login authentication to secure the stored data.
In need of more apparatuses, users can connect the MRC 1000/1100 to an optional docking cradle which houses a multitude of I/O to allow for greater application potentials. Anti-shock and anti-vibration robustness is also ensured even when the MRC 1000/1100 is docked. The MRC 1000/1100 has a 3-hour battery life which can be extended by 7 to 11 hours by hot swappable external batteries.
Main Features
7" WVGA TFT LCD with LED backlight
Daylight readable LCD display (MRC 1100)
Full QWERTY keyboard w/ number pad
Built-in fingerprint reader for data security
Support high performance dual-band Wi-Fi
Optional GSM/ GPRS/ HSPA/ CDMA
Support hot swappable extended battery pack
Compliance with IP65 and MIL-STD-810F
Ordering Information
MRC 1000 (P/N: 10U00100000X0)
7" Rugged tablet PC with Intel® Atom™ 1.6GHz processor/ 32GB SSD/ 2GB memory/ 4-wires touch screen/ Wi-Fi/ Bluetooth
MRC 1100 (P/N: 10U00110000X0)
7" Rugged tablet PC with Intel® Atom™ 1.6GHz processor/ 64GB SSD/ 2GB memory/ daylight readable touch/ 4-wires touch screen/ Wi-Fi/ Bluetooth/ GPS/ WWAN
Optional Accessories
MTK 10-DTC Desktop Cradle (P/N: 10UK10DTC00X0)
MTK 10-VMC Vehicle Cradle (P/N: 10UK10VMC00X0)
MTK 10-SBC 4 slots Battery charge (P/N: 10UK10SBC00X0)
Secondary Battery Pack 3S3P/42Whr (P/N: 4ZTSA12901X00)
Secondary Battery Pack 3S3P/62Whr (P/N: 4ZTSA18901X00)
Vehicle Cigarette Adapter (P/N: 7400060010X00)